Brad's Status
(2017)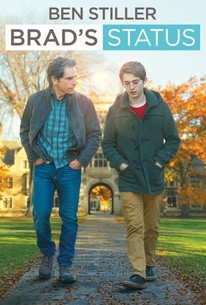 TOMATOMETER
AUDIENCE SCORE
Critic Consensus: Brad's Status transcends its familiar premise with insightful observations and affecting interplay between stars Ben Stiller and Austin Abrams.
Movie Info
When Brad Sloan (Ben Stiller) accompanies his college bound son to the East Coast, the visit triggers a crisis of confidence in Brad's Status, writer and director Mike White's bittersweet comedy. Brad has a satisfying career and a comfortable life in suburban Sacramento where he lives with his sweet-natured wife, Melanie (Jenna Fischer), and their musical prodigy son, Troy (Austin Abrams), but it's not quite what he imagined during his college glory days. Showing Troy around Boston, where Brad went to university, he can't help comparing his life with those of his four best college friends: a Hollywood bigshot (White), a hedge fund founder (Luke Wilson), a tech entrepreneur (Jemaine Clement), and a political pundit and bestselling author (Michael Sheen). As he imagines their wealthy, glamorous lives, he wonders if this is all he will ever amount to. But when circumstances force him to reconnect with his former friends, Brad begins to question whether he has really failed or is, in some ways at least, the most successful of them all.
Critic Reviews for Brad's Status
Audience Reviews for Brad's Status
Drama is one of the hardest genres to pull off because it's near impossible that the core message will hit everyone the same way. Sometimes a film can get caught up in its message, leaving the characters in the dust, while it can also be the exact opposite. I feel as though Brad's Status falls somewhere in the middle. Filled with solid performances and very broad outlooks on life, there is a lot to unpack here in terms of emotional storytelling, but it's all pretty muddled in retrospect. Here's why I believe the message itself is deserving of a watch, but the film as a whole is really quite annoying. This film follows Brad (Ben Stiller) as he takes his son Troy on a trip to Boston. Realizing that his son is actually smart enough to have the chance to get accepted into schools like Harvard, the bonding between them sprouts from there. This really is a character study of Brad, and how he thinks that the world itself hasn't given him enough and has rejected him as a person. Being jealous and thinking that all of his friends from the past are all wealthier and better off than he is, this very quickly becomes a slightly depressing story. For the majority of this film, you listen to the narration of Ben Stiller as he spews his thoughts and complaints about life. The arc that his character goes through is worth it and the overall message is good enough to be effective for many viewers, but the journey itself is really quite annoying. 80% of this movie is a narration of Brad complaining about how he's not successful enough and how he wishes his life was more exciting when he should really be just enjoying everything that he's actually been given. It almost seems like a fantasy at times, because his thoughts are pretty ridiculous at times. That being said, Ben Stiller really commits himself to this performance. Stiller hasn't been this powerful in quite a few years, which is easily the biggest takeaway from Brad's Status. Many other actors would've felt like they were reading from a script, not getting enough emotion across and seeming like an annoying character. As aforementioned, Brad is definitely that annoying character, but Stiller is what takes him to another level. The part that really bugged me when looking back on this film, is the fact that a slight script change could've made this one of my favorite films of the year. The screenplay itself is fine, but the fact that it feels repetitive could've easily been fixed. From complaining about not having the sex life he desires, to not owning his own plane, company, or mansion, each scene seemed to be a vessel for Brad to find something else to dislike about himself. The irony behind this review is the fact that my one complaint about this film trumps my thoughts about everything else because it's such glaring issue to me. There really is a lot to like about Brad's Status hidden under the annoyance of the presentation itself, so it's a shame in my opinion. In the end, Brad's Status is a very solid, yet simple premise that may have made me tear up in a few instances, but the way this story is presented is very one-sided until the third act. I really enjoyed watching this character transform throughout the film, but the message can be seen from a mile away and I felt like I was always one step ahead of the film. If you can see through the predictability and annoying aspects of this film, I can give it a mild recommendation, because the final act is satisfying if you were able to bear the main character complaining about everything. Brad's Status is a great message, hidden in a much weaker overall movie.
Brad's Status is the kind of movie one wishes were a person so it could be given a wedgie. It is the second movie this year to feature Ben Stiller dealing with middle age and daddy issues, but, absent Noah Baumbach's dark humor, it barely holds a candle to the already less than stellar The Meyerowitz Stories (New and Selected). Stiller has the petty, insecure schmuck schtick down pat from decades of mediocre films, so this movie was made for him to star. Well, to be fair, it was made for him to mope around on screen while his constant, insipid voice over narration rambles off every whim and rumination that passes through his bland head. It would be funny if they actually played it for what it is, a pathetic underachiever who is too much of a coward to be the horrible person that he wants to be. There are always glimmers of him being relatable, however, and it's annoying that the film makers want us to empathize with that sentiment. Wishing for your wife's parents to die so you can inherit their money is hardly endearing in the context of the film, it's not funny, and it serves as just the first exhibit in the cringe gallery of Brad's mid-life crisis. In one interaction, a young woman tries to drive home to him that most of his problems are somewhat trivial in comparison to actual suffering, and he seems to process it to some degree. Yet, he doesn't really change, and he continues to be wallow in his self-imposed misery even during the cheap existential epiphany he has of crying during an orchestral swell. As a cautionary tale, there are no great lessons to be taken away from this, and it's feeble attempts at subtle humor hardly ever land.
K Nife Churchkey
Super Reviewer
½
Writer/director Mike White (Chuck & Buck, School of Rock) has made a movie meant for the purposes of entertaining about a man who seethes with jealousy from the first frame and who reminds us and, more specifically, men of a certain age that time has or is running out. This isn't exactly the best way to get an audience who likely paid to see your movie on your side, but with the endearing presence of Ben Stiller serving as the conduit for White's exploration of middle age the well-regarded writer, who is only directing his second feature film with Brad's Status, is able to perform such explorations with such balance and well-defined introspection that the film mostly transcends its rather grim implications and is able to become one easily appreciated for its reassurance. Leave it to White, who has always excelled at crafting these kinds of human, but uncomfortably so, stories to make this reassurance not in the form of our titular protagonist finding and/or achieving what he so greatly craves for the majority of the runtime, but for discovering and realizing things he may not have considered prior. It's all about perspective and White chronicles these ideas and themes through Stiller's main character by giving him an abundance of internal monologue, but does it more convincingly by having Brad take part in actions that provoke the progression of these thoughts. Never does Stiller's Brad feel like little more than a man complaining for the sake of complaining, but rather Brad is a guy who is having a real crisis of identity. It would be easy to dismiss Brad's Status as another of those middle-aged white guys having an existential crisis movies and that's because it is, but there is something to Brad's Status that helps it rise above those kinds of dismissive criticisms by being the movie that acknowledges it's about white people problems and owns up to it. Everyone has problems, some obviously vary in degree of severity and repercussion size, but everyone has problems and issues they have to deal with and to each and every person each of their individual problems are as real as anything else. Brad takes real issue with the fact he feels he's cut himself short in this single shot at life he's been given and while White is keen to writhe just about every perspective out of this base of an idea he can what Brad's Status ultimately does is provide a way to navigate feelings of inadequacies and jealousy while coming to the realization that because everyone has their own problems that those who make Brad feel inadequate or jealous likely aren't aware of as much because they have their own things they're dealing with that their social media doesn't show. read the whole review at www.reviewsfromabed.com
Philip Price
Super Reviewer
Brad's Status Quotes
There are no approved quotes yet for this movie.