Brain Dead
(1989)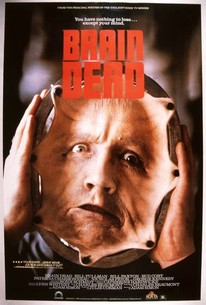 Movie Info
A neuroscientist is hired to perform experimental surgery on a once-brilliant, now-institutionalized mathematician, in the hopes of retrieving some valuable data. Something goes wrong, however, and the surgeon soon finds himself deep within a nightmarish world of reality shifts and strange happenings in this science-fiction thriller.
Critic Reviews for Brain Dead
All Critics (6) | Fresh (1) | Rotten (5) | DVD (1)
Heck, I could sit through a movie a whole lot worse than this one just to see a pair of my favorite actors banter back and forth.
Only the two Bills [Pullman and Paxton] keep this one from flat-lining
I felt cheated by its wearisome ploy of not decifering what was a dream and what was reality.
Audience Reviews for Brain Dead
½
A Psycho-analysist begins receiving the same symptoms as a paranoid patient that he "cures", from then on out the movie becomes an intangible mess. For an hour Brain Dead is a never ending cycle of bizzare dreams, with nothing comprehensive coming out of it. Bill Pullman keeps the film alive as the story line attempts to fry your brain, which stops working when the loop becomes repetitive. There are a few creepy images that sticked in my mind a few days after I watched the movie, so there's certainly a few haunting scenes, but as a whole it's like watching a broken record.
Daniel Dolgin
Super Reviewer
½
Not the gory Peter Jackson film, but a great mindfuck film. Paxton and Pullman together at last with one of the writers from the Twilight Zone and Bud Cort. If this movie was a chick I would marry it (and then divorce it for my real wife...in case she reads this). Awesome!
Christopher Brown
Super Reviewer
This had to go on here!So gory and funny and who can forget the kung-fu vicar?!
Brain Dead Quotes
There are no approved quotes yet for this movie.