Brain Donors
(1992)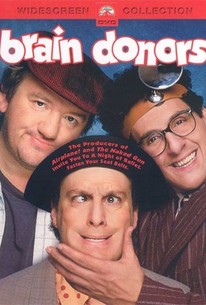 Movie Info
Brain Donors is a game attempt to redo the Marx Brothers' A Night at the Opera in a contemporary setting. John Turturro plays the "Groucho" character, a shifty lawyer (he's even given a Grouchoesque three-barrelled moniker). Bob Nelson is the "Harpo" counterpart, a puckish handyman. And Mel Smith completes the trio as a Chico-like cabbie. All three conspire to save a failing ballet company on behalf of dowager Nancy Marchand, who does a film-length impersonation of Margaret Dumont. At times, Pat Proft's script comes off more like a 3 Stooges short than a Marx Brothers romp, but that's not so bad. What hurts the film is its fluctuating pace, which shifts into neutral just when it should go into hyperdrive. Will Vinton's Claymation opening titles supply some of the film's biggest laughs.
Critic Reviews for Brain Donors
Audience Reviews for Brain Donors
Every Marx brothers movie condensed into one hell of a zany adventure. This movie is gut bustingly funny.
Ken Stachnik
Super Reviewer
½
Amazingly funny film with great performances by all the cast, especially Turturro. Great one-liners are delivered at a rapid pace and this movie is worthy of being put alongside the Marx Bros series even though it's only an "homage". "I want you to have my children... they're out in the car" Hilarious, and no, I'm not making fun of you Timbo.
Christopher Brown
Super Reviewer
Brain Donors Quotes
| | |
| --- | --- |
| Roland T. Flakfizer: | You're not going to try and cheat me or anything. |
| Rocco Melonchek: | I give you my word a gentleman. |
| Roland T. Flakfizer: | Well you had me until then. |
| | |
| --- | --- |
| Roland T. Flakfizer: | If there's anything I can ever do for you... forget it, because I don't do those kinds of things. |
| | |
| --- | --- |
| Roland T. Flakfizer: | "Stick with me kid and you'll have enough Nintendo software to sink a battleship" |
| Roland T. Flakfizer: | Stick with me kid and you'll have enough Nintendo software to sink a battleship. |