Bram Stoker's Dracula
(1992)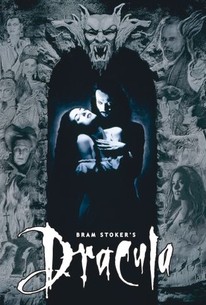 TOMATOMETER
AUDIENCE SCORE
Critic Consensus: Overblown in the best sense of the word, Francis Ford Coppola's vision of Bram Stoker's Dracula rescues the character from decades of campy interpretations -- and features some terrific performances to boot.
Bram Stoker's Dracula Videos
Bram Stoker's Dracula Photos
Movie Info
Based on Bram Stoker's classic 1897 novel, this film from Francis Ford Coppola and screenwriter James Victor Hart offers a full-blooded portrait of the immortal Transylvanian vampire. The major departure from Stoker is one of motivation as Count Dracula (Gary Oldman) is motivated more by romance than by bloodlust. He punctures the necks as a means of avenging the death of his wife in the 15th century, and when he comes to London, it is specifically to meet heroine Mina Harker (Winona Ryder), the living image of his late wife (Ryder plays a dual role, as do several of her costars). Anthony Hopkins is obsessed vampire hunter Van Helsing, while Keanu Reeves takes on the role of Jonathan Harker, and Tom Waits plays bug-eating Renfield. Bram Stoker's Dracula was the winner of three Academy Awards.
Critic Reviews for Bram Stoker's Dracula
Audience Reviews for Bram Stoker's Dracula
During the early 90's there was a reinvigoration for classic horror characters that were tackled by some of the most reputable names in the movie business. Under the watchful eye of director Mike Nichols, Jack Nicholson put his spin on the werewolf in 1994's Wolf while Kenneth Branagh managed to convince Robert DeNiro to take on the lead in Mary Shelley's Frankenstein (also in 1994). Two years previously, however, it was Francis Ford Coppola who reimagined Bram Stoker's lengendary tale of Dracula and he done so with some of the most visually impressive work he's ever produced. Plot: In 1897, young lawyer Jonathan Harker (Keanu Reeves) travels to gloomy Transylvania to close a deal on 10 London properties purchased by Count Dracula (Gary Oldman). However, the Count happens upon a photograph of Harker's betrothed Mina Murray (Winona Ryder) who strongly resembles the undead vampire's lover, Elisabeta, who died centuries ago. Inspired by the photo, the Count imprisons Harker and sets forth for London on a reign of seduction and terror to find his lost love. The Godfather's, The Conversation and Apocalypse Now are considered some of the cinematic greats and just a few from the resumé of Francis Ford Coppola at a time when he was at the forefront of filmmaking. However, when Bram Stoker's Dracula was released it came when, the once great, Coppola had fallen on harder times and he was unable to recreate the quality that his name had become synonymous with. Many would even claim that Dracula continued his poor run of projects but as a reimagining, it's actually quite a stunning piece of work. One thing that can't be said about the film is that it lacks style or is anything less than ambitious and hugely extravagant. It's obvious that it's Coppola intention to provide a fantastically visual experience and if the film is to be judged on that alone, then it's a massive success. Production designer Thomas Sanders really earns his crust in his recreation of this timeless story and he's helped, immeasurably, by Scorsese's regular cinematographer, Michael Ballhaus as every movie artifice in the book is utilised to beautifully, hyper-stylised effect. Although faithful to Stoker's original source material, narratively, the film has holes bigger than anything an old Transylvanian could sink into your neck. However, on this occasion, it doesn't really matter such is Coppola's ability to sweep you up in a romantic, Victorian love story while adding a much needed humanity to Dracula's character and motivations. This isn't just a generic horror tale involving coffins, stakes and garlic, this cuts across each characters personal journey; from lovers Mina Murray and Jonathan Harker to vampire hunter, Abraham Van Helsing, with each of them afforded equal and ample screetime. That said, the least said about some of the performances, the better: Winona Ryder is an actress that I've never taken to so anything she delivers doesn't really work for me and as Harker, Keanu Reeves is plain woeful. Reeves is no thespian and often comes in for criticism but this is, unequivocally, the worst he's ever been and his accent alone is so cringeworthingly bad that it's hard not to feel embarrassed for him. To be fair to him, though, you get the felling that even Reeves knows he's out of his depth. Meanwhile, Anthony Hopkins doesn't fare much better as Van Helsing. Normally, Hopkins delivers strong work but he absolutely hams it up here with another poor grasp on an accent that he simply can't get his tongue around. On the periphery, there's an overindulgent Richard E. Grant, an overzealous Sadie Frost and a very entertaining Tom Waits as the deranged, insect eating R.M. Renfield. Anyone familiar with Waits' ability to assume different personas in his musical work will see that this is a perfect role for him. When all is said and done, however, the majority of the meat on the films' bones rests with the leading man and Gary Oldman really delivers the goods. He's absolutely superb. Of all the main performers, Oldman is the only one who seems to understand what the tone of the film should be. He knows when he's required to crank it up or play it down and his range as an actor is on full display. He, at once, makes Dracula a broken-hearted romantic while also capturing a genuinely sinister and foreboding presence. With an abundance of atmosphere and visual mastery, Coppola lays the old cliched vampire to rest and ressurects the gothic tale in true creative style. It's certainly not without its flaws but you've got to admire Coppola's chutzpah to do things vastly different from any other adaptation. His handle on mood is masterful while his composition is breathtakingly imaginative. Mark Walker
Mark Walker
Super Reviewer
½
For Carpathian art direction, set design and costuming (the vermilion leather ripples on Dracula's battle armor, etc.), 'Bram Stoker's Dracula' is an exquisitely iridescent triumph from the notorious precisionist Francis Ford Coppola. Narrative-wise, the visually sumptuous story recaptures the forlorn, doomed love story and writhing sensuality of the original text that most adaptations leave out but Winona Ryder never smolders with his costars. Gary Oldman is alternately romantic and horrifying (his demonic bat makeup is a ghastly embodiment that still sends shivers down your spine) in the title role. When he salivates over blood smatterings on Harker's razor and glides inhumanly on a dolly track, Oldman taps into the insatiable appetite of the bloodsucker. As a Keanu Reeves apologist, I can't defend his miscast turn as Jonathan Harker. He is simply too postmodern-surfer for the role and his line delivery could generously be called wooden. But for pitch-perfect casting, Tom Waitts is wondrously bug-eyed and loony as the stark-raving Renfield. To his credit, screenwriter James V. Hart alludes to Vlad's skirmish with the Turkish empire which amplifies the historical subtext. The London-bound scenes with Lucy, Mina and Arthur are pretty pedestrian as if they are excerpts from a particularly sedate Jane Austen novel about erogenous repression. Next to Max Shreck and Legosi, Oldman's rendition of Dracula might be the definitive version in this ostentatious take.
Cory Taylor
Super Reviewer
½
Dracula: Listen to them: the children of the night. What sweet music they make. "Lord Never Dies" After just recently reading Dracula for the first time, I thought I'd give Francis Ford Coppola's film another look. This is a pretty faithful adaption altogether, albeit with the sexual subtleties from the book thrown out. The subtleties aren't there when it comes to sex anymore. There's a lot of nudity, a lot of sex talk, and innuendo thrown in throughout this Dracula adaption. Same story as every other Dracula. Jonathon Harker is sent to Transylvania to meet with, and care for the purchases of Count Dracula. Once in his castle, Jonathon notices a lot of unusual things with the Count and his home. Soon Dracula leaves for London. Once there he begins corrupting the women as he begins his takeover of London, England, while also trying to get Harker's wife, Mina, to himself. The cast isn't perfect in this one and neither are the characters. Keanu Reeves feels so out of place in this movie. Van Helsing, like every other Van Helsing character, doesn't really feel like the character from the book. I like Anthony Hopkins and he's good here as well, it's just not the true Van Helsing. Winona Ryder is a decent, but unsatisfactory, Mina. Gary Oldman is the selling point and is great as Dracula. Altogether this is a really good Dracula adaption. It has its share of problems for sure, but the terrific cinematography, music, and atmosphere of Coppola's horror epic, more then make up for the small problems.
Melvin White
Super Reviewer
Bram Stoker's Dracula Quotes
| | |
| --- | --- |
| Count Vlad Dracul/Dracula: | There is much to be learned from beasts. |
| | |
| --- | --- |
| Count Vlad Dracul/Dracula: | The victories of my great race are but a tale to be told. |
| | |
| --- | --- |
| Count Vlad Dracul/Dracula: | What devil or witch was ever so great as Attila, whose blood flows in these veins? |
| | |
| --- | --- |
| Lord Arthur Holmwood: | An autotopsy. |
| Professor Abraham Van Helsing: | No, no, not really, I just want to cut off her head and take out her heart. |