Branded
(2012)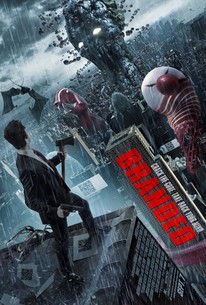 Movie Info
Branded is a dark and mind-bending journey into a surreal, dystopian society where corporate brands have unleashed a monstrous global conspiracy to get inside our minds and keep the population disillusioned, dependent and passive. One man's Misha (Ed Stoppard) passion to unlock the truth behind the conspiracy will lead to an epic battle with the hidden forces that really control our world. -- (C) Official Site
Critic Reviews for Branded
Audience Reviews for Branded
½
In "Branded," Misha(Ed Stoppard) is struck by lightning as a child. So, as an adult, he can do no better than getting a job in marketing in Moscow, working for Bob(Jeffrey Tambor) who is in reality a front for the CIA. Still, Misha has done well enough for himself to help Abby(Leelee Sobieski) get her reality program off the ground. "Branded" aims to have some very pointed and intelligent things to say about marketing and body image but manages nothing that has already covered better by the likes of Dr, Seuss and Bill Hicks. Even then, the movie feels desperately random and all over the place, as it also tries to bring up subjects like fate. So random is it that Max von Sydow feels like he is in a different movie entirely which I am not ruling out by the way. With Ed Stoppard being a complete non-entity in the lead, that leaves the always appealing Leelee Sobieski nowhere to go. At least when the movie finally gets weird, it is actually an imaginatively looking weird.
½
A Russian advertising executive (with a British accent) develops the ability to see people's brand loyalty, which materializes as waving blobs on stalks attched to their necks, then decides he must come up with a plan to destroy all advertising. This could have made a decent a satire, but it's way too serious, preachy and hamfisted; a couple of good ideas are killed off by mediocre performances, lazy scriptwriting, and cheap, head-scratching CGI.
Most of people who watch Branded (also known as The Mad Cow and Москва 2017), a Russian and American science fiction film written and directed by Jamie Bradshaw and Aleksandr Dulerayn, will choose to hate it. Why? In the Western world because it attacks the consumerism - their life style, everywhere else - because they will feel disconnected! There is no other option! As the movie begins, the names of famous visionaries including Joan of Arc, Albert Einstein and Alexander the Great flash on the screen (probably hundred different names) and the caption reads, "All of them saw things others didn't see. All of them changed the world." In this story, starting in the early 1980s, in Soviet Russia, young Misha Galkin is struck by lightning. A woman examines him and, seeing that he is still alive, predicts that his life will not be ordinary. And it wasn't! In a series of documentary-style flashbacks, narrated by the same unseen narrator, we were led through the events to see how Misha used his natural marketing savvy to rise from a poor clerk to a marketing exec. His big break came when he met Bob, an American hired to spread Western brands and businesses in post-Communist Russia... Did you know that this film was not screened for critics and has received predominantly negative reviews? Go back to my first paragraph - people who live from consumerism would not like it presented like this! This is much deeper movie which tried to even educate the audience... but instead of "thanks" was branded as "convoluted and pretentious... so packed with ideological pretension". Yes, it is ideological, it is silly at moments, far from executed the best possible way, and I will say for one reason: at least one of the directors tried to sit on "two chairs" - criticizing the late stages of the capitalism and trying to make money out of it in that same stage of the capitalism. The team was just not brave enough to carry the mission to the end - and they failed.~ If you don't think that this society is fair, and that politicians are just executives for the more powerful people, believe in 'voices' and love good photography, give it a go. A NO GO for everyone else!
Branded Quotes
| | |
| --- | --- |
| Misha Galkin: | Ladies and gentlemen. The Burger is dead. The growth of brands has spiraled out of control. Never before in history has it been this difficult to record growth because there is simply not enough room in the minds of consumers to hold new desires for new products. What happened in the case of fast food has fundamentally altered the market forever. A crippling anxiety has seized consumers. They're terrified the products can hurt them. A unique opportunity now stands before you. The time has come to clear a free space in the minds of consumers, where your products can live on. Today, in order to get consumers to continue to desire computers, you have to first make them lose interest in cellphones. What you need, is to convince them that the competition's brands are deadly dangerous. Destroy the market for cellphones, and eradicate the competition. For your brands to grow, they need to learn how to attack. And I know how to teach your brands to attack. |
| | |
| --- | --- |
| Marketing Guru: | I want to talk to you today... about love. See, I have struggled to find a way to restore the people's love of your products, but it hasn't worked out. Consumers just no longer wish to buy them. When it's over, it's over. They no longer love you. The era of fast food has passed. But I do have a proposal. Something which exceeds the limits of marketing in its traditional form. A plan which will change the world. Together, we will make fat beautiful again. But first, a question. How far are you willing to go to solve your problems? |
| | |
| --- | --- |
| Marketing Guru: | How far are you willing to go... to change the world? |
| | |
| --- | --- |
| Misha Galkin: | Now is the time to get the truth out. |
| Bob Gibbons: | No no no. |