The Brave One
(2007)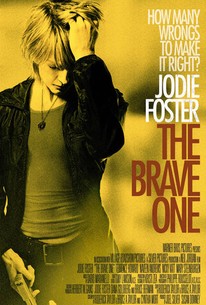 TOMATOMETER
AUDIENCE SCORE
Critic Consensus: Magnetic by between Jodie Foster and Terrence Howard can't quite compensate for The Brave One's problematic and unconvincing eye-for-an-eye moral.
Movie Info
New York radio host Erica Bain has a life that she loves and a fiance she adores. All of it is taken from her when a brutal attack leaves Erica badly wounded and her fiance dead. Unable to move past the tragedy, Erica begins prowling the city streets at night to track down the men she holds responsible. Her dark pursuit of justice catches the public's attention, and the city is riveted by her anonymous exploits. But, with the NYPD desperate to find the culprit and a dogged police detective hot on her trail, she must decide whether her quest for revenge is truly the right path, or whether she is becoming the very thing she is trying to stop.
News & Interviews for The Brave One
Critic Reviews for The Brave One
Audience Reviews for The Brave One
½
A rather original film, or so I thought - my friends tell me it's a Death Wish rip-off, so I'm adding that one to the list of shame! - in which a radio host becomes a sort of she-Batman (with a gun), a vigilante driven by rage at her lover's murder. I though the premise was interesting and contemporary, but unfortunately the script is grossly overwritten and the story unfolds at a plodding and wandering pace, becoming predictable, too, when the cops repeat certain details or make a big note of given evidence and thereby tell us the formulaic direction this movie will take before reaching its too-contrived "twist" ending. I did like the way Jodie Foster showed several sides of this character, though, particularly the emboldened radio persona she adopts, and Mary Steenburgen's bit part and Terrence Howard's lead cop role were both well played. It was a real shame how little this script rewarded the actors' work in this neo-noir miss.
Daniel Perry
Super Reviewer
This thriller takes the classic revenge story and adds a deeply psychological level: what does violence happening against us and those we love to our soul? In case of Jodie Foster's case here we get so afraid that we start shooting everyone threatening us. The film makes sure to stick to targets that "deserve" that treatment, it never dares to challenge the vigilante point of view by her shooting the wrong guy. The solution to the whole dilemma adds to the fact that the film chickens out on positioning itself. Of course it does not ask for anyone to raise arms and enforce to their own ideas of the law. It does let the character get away with this a little too easily and that leaves a stale taste in your mouth. The camera work and acting is top notch, no complaints there. This could have just been so much more enthralling and morally ambiguous.
A victim of a brutal mugging becomes a vigilante. Stylishly directed by Neil Jordan, as she did in Flightplan and Panic Room Jodie Foster summons her inner bad ass, and the result is another convincing performance from a very talented actress. The film, however, is not well written. Mercer, the detective assigned to the case of Foster's vigilante killer, is not constructed well, transitioning at a critical moment in the third act illogically; his plan doesn't even make sense within the plot. What is more, the film essentially supports vigilantism without a critical eye. It would be a more complex exploration of this idea if Erica killed someone whom she realizes is innocent of any mortal sin. Also, the style of the film - Neil Jordan moving the camera like it's a boat at sea - is occasionally effective but eventually annoying. Overall, despite all the great work Foster does, I think there's little that could have saved this film as it is written.
Jim Hunter
Super Reviewer
The Brave One Quotes
There are no approved quotes yet for this movie.