Braven
(2018)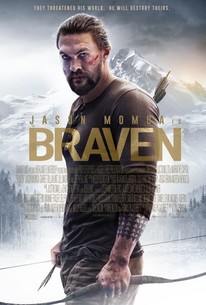 Movie Info
Jason Momoa takes no prisoners in this intense action-thriller. When Joe (Momoa) and his father (Stephen Lang) arrive at their remote hunting cabin, they're hoping for a quiet weekend. What they find is a stash of heroin, hidden in the cabin by drug traffickers. When the criminals suddenly descend upon the cabin, Joe and his father must make a kill-or-be-killed stand for survival.
News & Interviews for Braven
Critic Reviews for Braven
Audience Reviews for Braven
½
If you want to read the review I wrote for this, go to letterboxd.com/HankIsDead514. I can no longer post long reviews on here and I'm not writing two separate reviews for the same movie.
Jesse Ortega
Super Reviewer
½
Momoa is a promising action hero and thanks to Aquaman might finally push him into the public. This film required a bigger budget to fulfil the gritty promise of the storyline. The film is shot like an indie and the area looks amazing, not your typical action film style. Braven lacks the polish, but it is provided great strength thanks to Momoa and Lang in the lead roles. I was hoping this would be a better film, the trailer look incredible. The budget robs the flm in the end and that is a shame, it really isn't a bad film. One of the action scenes involving two men going off the cliff is quite badly shot. Momoa is the saving grace here and you'll only watch it for him. 02/01/2019.
Brendan O'Connor
Super Reviewer
Little bit Home Invasion, little bit Western, little bit Die Hard. Braven sees Momoa in the titular role (maybe prepping for his upcoming role as Draven?) of this throwback action thriller, which is always a good place to start any movie. While not exactly groundbreaking, Braven was more enjoyable than I had suspected it might be. The sort of thing that'd definitely be worthwhile on Netflix or matinée .
Braven Quotes
There are no approved quotes yet for this movie.