Bravo Two Zero
(1999)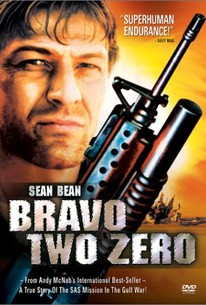 AUDIENCE SCORE
Critic Consensus: No consensus yet.
Movie Info
The BBC1 military miniseries Bravo Two Zero was based on the actual experiences of Sergeant Andy McNab, who adapted the teleplay from his own novel. Set during the 1991 Gulf War, the series' two 60-minute episodes follow an SAS Patrol as they burrow deep into Iraqui-held territory. Their mission: to destroy the scud missiles in the arsenal of Saddam Hussein. Getting into enemy territory was the "easy" part; getting out was another matter entirely. Without giving away the ending, it should be noted that the SAS team in question was the most highly decorated British patrol since the days of the Boer War -- and that only five of the eight operatives lived to receive their decorations. Sean Bean starred as protagonist Andy McNab. Bravo Zero Two made its first television appearance in 1999. ~ Hal Erickson, Rovi
Critic Reviews for Bravo Two Zero
Audience Reviews for Bravo Two Zero
½
Highly fictionalized made for TV movie based on the mission Bravo Two Zero, this film was based on Andy McNab's bestseller that recounts his experience during the failed SAS mission to destroy Saddam Hussein's Scud missiles during the Gulf War. McNab was hailed as a hero and his book was praised as an authentic account of the events. However, he made up some key aspects of the mission that have been hailed as pure courage. With that being said, this is a flawed movie that covers up the facts. I'm a sucker for military authenticity as I was born in a military family, and I appreciate and respect what servicemen do, but this account covers up the facts and that just doesn't give the true story justice. In terms of a movie, this is a decent to mediocre affair that looks more like a B movie version of a Rambo film than anything. I had mixed feelings about this film, and though Sean Bean is a good actor, I felt he really didn't offer anything to the screen to make this one a standout war film. If the real facts would have expressed on camera, then Bravo Two Zero would have been a successfully well executed war drama about a failed heroic mission of the British SAS. I read the real facts, and it is a more compelling and exhilarating story than what Andy McNab has written in his book. Understandably McNab wanted to glorify the mission and bend the truth to the point it was laughable. He clearly just wanted to sell books, and in the long run his memoir was critically acclaimed as accurate and the best work on the SAS. Well, it isn't. This film should be seen as a mindless action made for TV war film that is entertaining, but is heavily flawed due to the ignorance of the real facts. If you have nothing better to watch, give it a shot, but be warned, everything you see here is more fiction than fact, and if you want to know more about the mission read Michael Asher's book The Real Bravo Two Zero and Peter Ratcliffe's memoir Eye of the Storrm, which has been hailed as THE book on the SAS. In the end, this made for TV version of McNab's work may just spark an interest in the patrol and make you want to find out what actually happened, which is not that bad. If only the real facts would have been presented, then the film would have really been something quite worthwhile to see.
Good film based on true events by the SAS!