Bread and Roses
(2001)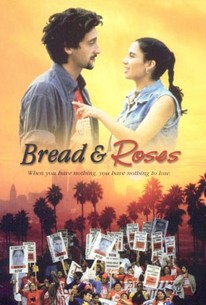 Movie Info
A young Mexican woman crosses the border into LA to join her sister, who works as a janitor in some of the city's largest corporate offices. Surrounded by the machinations of big business, the sisters seek happiness on a smaller but more human scale as they try to organize a janitorial union.
Critic Reviews for Bread and Roses
Audience Reviews for Bread and Roses
Bread and Roses, another movie directed by Ken Loach, only this time he used American location.It felt strange as he was used to present Irish, English or Scottish locations.A young Mexican girl Maya, living the American dream,working and living in the USA came over very believable. Adrien Brody, did an excellent job, portraying the faces of injustice and helping immigrants in difficult job situations. Only this time Loach did not balance his Anti American views against the small opportunities and poverty in Mexico, and there was something missing in the movie.The acting from the main female character, Maya (Pilar Padilla),was very natural. Overall Bread and Roses worked best as a human drama.
Daisy Maduro
Super Reviewer
I only watched this becuase Adrien Brody came out. The lead actress just wasn't interesting to me. I didn't care about her character's plight. It seemed to me like she made some really dumb mistakes. I didn't find anything in her character to root for. I thought the "love story" was weak. meh.
Marion Ravenwood
Super Reviewer
Repressing proletarians,oh you Loach.A political innovator of cinematic beauty and justice,Loach stumbles upon the U.S. disorder which is obviously a great matter to develop in a feature film.The lighthearted approach is confusing to say the least and impeccably incoherent.The weakest Loach in my opinion,very shallow sub-plot of a love story.
Dimitris Springer
Super Reviewer
Bread and Roses Quotes
There are no approved quotes yet for this movie.