Bread & Tulips
(2001)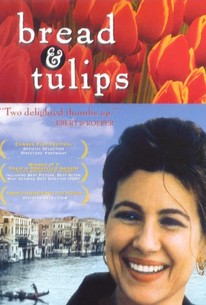 Movie Info
Silvio Soldino directs this gentle comedy about a housewife who temporarily flees from the grinding tedium of her household duties and drifts into a world of amicable weirdos. When Rosalba (Licia Maglietta) is accidentally forgotten by her tour bus at a roadside restaurant, she does not wait there as instructed. She decides to hitchhike home, but on a whim, she ends up in Venice instead. Quietly exhilarated at the prospect of being alone for a spell, she checks into an inn run by a kindly yet eccentric Icelander (Bruno Ganz). Her plans to return the next day are thwarted when she misses her train and does not have enough money to buy another ticket. Soon she is gainfully employed at a flower shop run by an irascible old anarchist. Though her teenaged sons do not seem all that bothered by their mom's absence, Rosalba's husband grows increasing agitated at the interruption in his routine, so he hires a bumbling detective to track her down.
Critic Reviews for Bread & Tulips
Audience Reviews for Bread & Tulips
A pleasant film. Not fabulous, but engaging and sweetly amusing, with some enjoyable oddball characters and cute plot twists. What holds the whole thing together well is a likeable, warm, centered performance my Licia Maglietta, whose manages to keep her role from becoming pathetic, silly, or annoying--as it might have done in the hands of a different actress. BUT that being said, I almost turned it off several times due to boredom.
Cynthia S.
Super Reviewer
A great and wonderful movie set in beautiful Venice. Licia Maglietta had incredible acting in this and would recommend this movie to anyone. :)
Cassie Hill
Super Reviewer
½
A light comedy about a woman regaining her sense of adventure and independence, the type of movie that leaves a happy feeling. The woman in question is Rosalba, an unappreciated housewife. She lives to serve her family, mistaking her lifestyle for happiness. While on vacation, she goes to the bathroom only to find that her family left, forgetting to take her with them. After seeing Bread and Tulips, the words that come to mind are "sweet" and "charming". It isn't a great film but it is a nice film that has its heart in the right place. You're behind Rosalba and her decision every step of the way, especially when you meet the people that become her new family.
El Hombre Invisible
Super Reviewer
Bread & Tulips Quotes
There are no approved quotes yet for this movie.