'Breaker' Morant
(1980)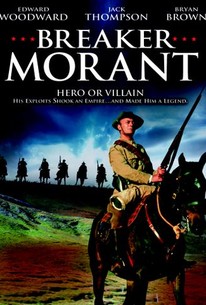 Movie Info
One of the best dramas to emerge from Australia in the 1980s, Breaker Morant won numerous awards and was nominated for several others. Director Bruce Beresford's mantle is also filled with awards for other impressive films, including Tender Mercies (1983) and Driving Miss Daisy (1989). The setting of this true story is South Africa during the Boer War (1899-1902). Many Aussie soldiers volunteered to help the British defeat the Boers and "Breaker" Harry Morant (Edward Woodward) was among this group. He had left Britain for Australia in the late 19th century and because he was adept at taming wild horses he was given the nickname of "Breaker." Once in South Africa he became a leader of the other soldiers in his non-regular army unit, and it did not take him long to catch on to the fact that the Boers (Dutch colonialists and their descendants in South Africa) were not fighting according to traditional rules. He and his fellow soldiers were ordered to execute anyone taken as a prisoner -- and they did. When news of this sanctioned violation of the rules of war got out, the British army had to find some scapegoats, and quick. "Breaker" Morant and two other Aussies, Lt. Peter Handcock (Bryon Brown) and Lt. George Witton (Lewis Fitzgerald) were court martialed as an example to others. And then their trial begins.
News & Interviews for 'Breaker' Morant
Critic Reviews for 'Breaker' Morant
Audience Reviews for 'Breaker' Morant
Zulu. The Man Who Would Be King. Breaker Morant. I just love jingoism!
Christian C
Super Reviewer
½
At the beginning of the 20th century 3 Aussie soldiers are court-martialed for killing 6 Boers in South Africa, only the game is rigged. An ugly tale of military necessities versus political necessities made real by rich performances.
Kevin M. Williams
Super Reviewer
½
Checking out the movies inspired from real events, I came across this one. Especially interested in crime genre movies based on true events, I just couldn't overlook this. An IMDb rating of 8/10 (at the time when this is been written) only added to my eagerness to check it out. It was like any other courtroom drama (here it's court-martial). Nevertheless, it was worth a watch. It depicts how some brave lieutenants are used as scapegoats in order to seek peace!!! The case was presented marvelously & it was intriguing to see how the relatively inexperienced lawyer of the accused defends them. However, one can easily deduct that the outcome of the case was already decided upon before even the case has started. The movie was handled excellently; it was interesting thoroughly for what could otherwise have been a boring predictable docudrama. All the actors play their part quite impressively. If you're a fan of movies based on true events, you might like to check this out. It's not too great, but is worth a shot.
familiar stranger
Super Reviewer
'Breaker' Morant Quotes
| | |
| --- | --- |
| Lt. Peter Hancock: | A slice off a cut loaf's not missed. |
| | |
| --- | --- |
| Lt. Harry Morant: | We were on the veldt, fighting the Boer! |
| | |
| --- | --- |
| Lt. Harry Morant: | shoot straight you bastards don't make a mess of it |
| Lt. Harry Morant: | Shoot straight, you bastards! Don't make a mess of it! |