Breakfast at Tiffany's
(1961)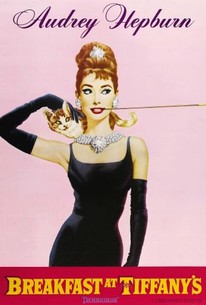 TOMATOMETER
AUDIENCE SCORE
Critic Consensus: It contains some ugly anachronisms, but Blake Edwards is at his funniest in this iconic classic, and Audrey Hepburn absolutely lights up the screen.
Breakfast at Tiffany's Videos
Breakfast at Tiffany's Photos
Movie Info
A lonely, struggling writer becomes enchanted with his neighbor: an independent young woman who strives to be a high-climbing socialite with a penchance for high-fashion and wild parties. But, soon he uncovers the vulnerability she has at heart.
News & Interviews for Breakfast at Tiffany's
Critic Reviews for Breakfast at Tiffany's
Audience Reviews for Breakfast at Tiffany's
A favorite movie of mine since high school. I do love the idea of enjoying a place for its character and not necessarily for purchasing its wares. My Tiffany's is White Castle, though I still do purchase plenty of their delicious, miniature wares and frequent their Valentine's Day extravaganzas. The dialogue is naughty yet oblique enough for its time; Cat is cute and sad; George Peppard is dreamy as all-get-out; and Henry Mancini's iconic score is playful and mischievous. I prefer Marilyn Monroe to Audrey Hepburn in general, but I can't deny that the latter brings a level of sophistication and class that the former wouldn't have if she had been cast as Holly Golightly, which Truman Capote wanted her to be. Seeing this again for the first time in a long time though has opened my eyes to an unsettling revelation: Holly Golightly is probably the first [gasp] Manic Pixie Dreamgirl! I've grown weary of the can't-be-tamed caged bird trope that has become a cliche pop culture identity with Karen Gillan's Amy Pond on "Doctor Who" and various other "too fucked up to love me" girls. I used to identify strongly with the winsome and mercurial Holly Golightly and she's still a rather complex and memorable character, but perhaps my impatience for the literary/filmic type has retroactively soured her for me.
Alice Shen
Super Reviewer
This adorable blend of romance, comedy and sweetness includes several new narrative elements and significant alterations in the original story that only add to it making it even more delightful - and even if miscast, Hepburn surprises with a very special performance.
Carlos Magalhães
Super Reviewer
½
Re-watching this reminded me how lovely, charming, and horribly racist this is. We really used to do that in movies, huh? If you can look past the choices of the times, there is a great heart under there.
Breakfast at Tiffany's Quotes
| | |
| --- | --- |
| Holly Golightly: | No, no, you disapprove of me. And I will not accept drinks from gentlemen who disapprove of me. I'll pay for my own whiskey and don't you forget it! |
| Paul Varjak: | Holly... |
| Holly Golightly: | I do not accept drinks from disapproving gentlemen. Especially not from disapproving gentlemen who are kept by the ladies. So take it. You should be used to taking money from ladies by now. |
| | |
| --- | --- |
| Holly Golightly: | You could always tell what kind of a person a man thinks you are by the earrings he gives you. I must say, the mind reels. |
| | |
| --- | --- |
| Mr. Yunioshi: | Miss Gorightry! |
| | |
| --- | --- |
| Holly Golightly: | Well, when I get it the only thing that does any good is to jump in a cab and go to Tiffany's. Calms me down right away. The quietness and the proud look of it; nothing very bad could happen to you there. If I could find a real-life place that'd make me feel like Tiffany's, then - then I'd buy some furniture and give the cat a name! |