Breakin' All the Rules
(2004)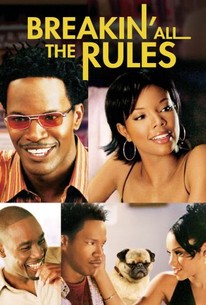 Breakin' All the Rules Photos
Movie Info
A man who writes the book on ending a romance runs into rough sledding while starting a new one in this comedy. Quincy (Jamie Foxx) is a magazine editor whose life takes an unexpected turn for the worse when his fiancée, Helen (Bianca Lawson), decides to give him some interesting news at their engagement party -- she's breaking up with him. A few days later, Quincy's boss, Phillip (Peter MacNicol), gives him the task of cutting manpower in his department by 15 percent; too emotionally beaten to fire anyone, Quincy responds by quitting his job. Deeply depressed, Quincy begins writing a letter to Helen to explain his feelings, but as he analyses his emotions, his notes take a different turn, and Quincy decides to write a book about how to painlessly break up with someone. The book becomes a smash best-seller, and Quincy's friends begin turning to him for advice on the subject of getting out of relations. Quincy's cousin Evan (Morris Chestnut) is eager to call things off with his girlfriend, Nicky (Gabrielle Union), and asks him to do the dirty work for him; however, Evan begins to have second thoughts when he discovers Quincy has fallen for her.
Critic Reviews for Breakin' All the Rules
Audience Reviews for Breakin' All the Rules
½
A romantic comedy with good looking leads (Foxx, Union, Chestnut, Esposito, and Lawson), some farcical complications involving relationship break-ups, but not very intelligently written.
Byron Brubaker
Super Reviewer
Jamie Foxx and Gabrielle Union headline a very funny romantic company. The chemistry between these two is genuine. "Breakin' All The Rules" is a film about mistaken identities gone wild. While the relationship between Foxx and Union is predictable...how the other relationships turn out are not...making you stick around until the end. The movie doesn't waste time...starting out with Foxx's character Quincy getting dumped by his girlfriend. Quincy then writes a successful how-to book on breaking up and that sets off a chain reaction that will keep you in your seat until the end.
George Kiriyama
Super Reviewer
The story is half decent, although I think a lot of these films, waste time on film which is just modelling shots. So they found it tough to fit the rest of the story in. But it works, no complaints. Funny !
Alexander Wilson
Super Reviewer
Breakin' All the Rules Quotes
There are no approved quotes yet for this movie.