Breaking In
(2018)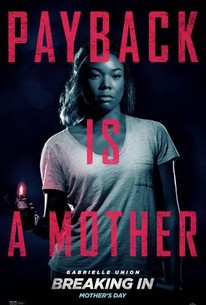 TOMATOMETER
AUDIENCE SCORE
Critic Consensus: Breaking In is proof that Gabrielle Union deserves more leading roles -- particularly in films that offer more than this rote, disposable action thriller.
Movie Info
Next Mother's Day, Gabrielle Union stars as a woman who will stop at nothing to rescue her two children being held hostage in a house designed with impenetrable security. No trap, no trick and especially no man inside can match a mother with a mission when she is determined on Breaking In.
News & Interviews for Breaking In
Critic Reviews for Breaking In
Audience Reviews for Breaking In
There is nothing remotely original, clever, entertaining, tense or exciting in this lousy break-in thriller that reuses the dullest clichés you could think of and is filled with dumb characters who make the most stupid decisions all the time, even when trying to appear smart.
Carlos Magalhães
Super Reviewer
This required and deserved an R-rating. Richard Cabral is the only actor here that seems to know what type of movie he's in. Well, him and Levi Meaden dye job. Cobral plays every scene with the perfect balance of cheap, cheese, and cliché. Too bad everyone else thought they were making high drama as this would have greatly improved by knowing it needed to be nothing more than entertaining schlock.
Philip Price
Super Reviewer
Just in time for Mother's Day weekend comes two eminently bland, safe, and unmemorable movies that generally waste their female stars. On the other side, Breaking In is a mundane, low-budget home invasion thriller that disappears almost instantly from memory. I'm struggling to even come up with enough to say in this review that isn't just repetitions of the word "boring." Gabrielle Union (Bring it On) plays a mom who brings her two children to visit the estate of her recently deceased, estranged father. Also visiting is a trio of stupid robbers searching for a hidden stash of money. They take the kids hostage though keep them locked in a room and in little danger. Union's determined mother must break in and save her children. It's a thriller without anything genuinely thrilling to experience, as each chase or near miss hums along ineptly and tediously, finding the least interesting conclusion. There are no well-drawn suspense set pieces to quicken the pulse, no clever escapes or near-misses, no intriguing villains with strong personalities, and no entertainment to be had through its strained 88 minutes. There are glaring plot holes, chief among them why doesn't she just flag down a car and call the police rather than hack it alone. Depressingly, Breaking In is actually directed by James McTeigue (V for Vendetta) who seems to have exhausted any sense of style and excitement he may have had earlier in his directing career. It feels like nobody really cared about the movie they were making, and that lack of enthusiasm and effort translates into one very boring and very poorly written and executed thriller. Union deserved a better showcase but, then again, the audience deserved a better movie too. Nate's Grade: D+
Nate Zoebl
Super Reviewer
Breaking In Quotes
There are no approved quotes yet for this movie.