Breaking The Code
(1997)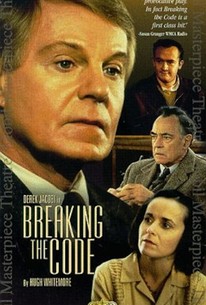 AUDIENCE SCORE
Critic Consensus: No consensus yet.
Movie Info
Originally produced for the BBC and Masterpiece Theatre, Breaking the Code tells the life story of the famed mathematician and computer science pioneer Alan Turing, the primary designer of the Turing Machine, an early computer used to solve the German Enigma code during World War II, a solution many believe was instrumental in the Allied victory. The title refers to both the solution of the Enigma code and Turing's open admission to his homosexuality, which at the time violated not only the codes of polite society but British law. Hugh Whitemore's screenplay, based upon his play and Andrew Hodges' book Alan Turing: The Enigma, frames Turing's life as a puzzle, beginning in 1952 with the mysterious robbery of some of the mathematician's few possessions. The rest of the film travels backwards and forwards through time, providing associative glimpses of Turing's past and present, including his school days, his wartime efforts, and his post-war experiences. Discussions of his mathematical and logical work alternate with glimpses of his turbulent personal life, including his boyhood love, the unrequited attentions of his female assistant, and his later relationships with younger men, drawing connections between his theoretical work and his personal traumas.
Critic Reviews for Breaking The Code
There are no critic reviews yet for Breaking The Code. Keep checking Rotten Tomatoes for updates!
Audience Reviews for Breaking The Code
Alan Turing was a brilliant Mathematician who helped break the German Enigma code and was a pioneer of modern computing. Turing was also a homosexual at a time in Britain where it was a crime. Turing ended up being convicted for gross indecency and was forced to be castrated and undergo hormone therapy. A year after this, in 1954 he committed suicide. He was subsequently pardoned in 2013. Breaking the Code is a terrific biopic with a great cast, and it shows the tragic side of his life, mixed with his incredible discoveries, especially how he managed to break the Enigma code, used by German U-boats. Derek Jacobi gives a powerful, emotional performance as Turing, and he makes the role his own. This film is a well crafted biopic on a very complex man. It may not be perfect, but for what we get, it's a nicely directed feature with a terrific cast and tells a poignant true story about one of the smartest men of the 20th Century who face appalling treatment due to his sexual orientation. Made for TV films tens to be cheaply done, and have many imperfections, but with Breaking the Code, the film has much strength due to the fact that Derek Jacobi really shines in the lead role, and it is a very well done film that should be seen by those interested in the subject. While watching this film, you come to feel for Turing, and you sympathize with him and feel bad for him for the treatment he received because of his sexual orientation. Breaking the Code, for me anyway was a wonderful film about a great man, and watching this, you'll realize at how unfair this great man was treated and that instead of being prosecuted, his government owed him a debt of gratitude, which was only until recently, was granted a Royal Pardon. Breaking the Code is not perfect, but it definitely is one of the best Made for TV features that I have seen, and with a memorable, powerful and ultimately poignant performance by Derek Jacobi, it makes it that much more worth seeing.
Breaking The Code Quotes
There are no approved quotes yet for this movie.