Breaking The Girls
(2013)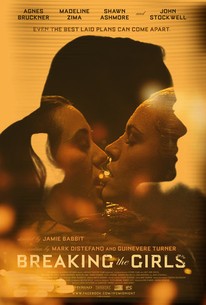 Breaking The Girls Photos
Movie Info
In a thriller reminiscent of the best of Alfred Hitchcock, Madeline Zima and Agnes Bruckner star as best friends who share everything until one of them reveals a twisted sense of loyalty. Sara is an ambitious, beautiful twenty-something working her way through law school. Her hard work and stellar academic record has paid off with a coveted scholarship. Her kind spirit and generous manner attracts one of the popular guys at school, Eric. His jealous girlfriend, Brooke, who comes from a wealthy, privileged background, decides angrily to publicly humiliate Sara at the bar where Sara works. Watching from the bar is Alex, gorgeous and even more privileged even than Brooke. Alex takes Sara under her wing to comfort her. As a way of getting back at Brooke, Alex encourages Sara to continue her flirtation with Eric. For a little while, it's great fun. But it backfires - Brooke's father is the head of the scholarship board, and Brooke convinces him to revoke Sara's scholarship. Then Brooke gets Sara fired from her job. Devastated, Sara turns to Alex. As the two girls become closer, a sexual tension develops between them. As they discuss what to do about Brooke, Alex tells Sara about her own stepmother, a woman she despises. Alex casually suggests to Sara that they should make a murder pact. Alex would kill Brooke for Sara, and Sara would repay by killing Alex's stepmother. All their problems would be solved. Sara shrugs off the suggestion as a joke. The next day, Brooke is found dead, and Alex appears at Sara's door, reminding her of the pact. Sara realizes she has been used and that Alex has set her up to take the rap for Brooke's murder. Out of her elements and emotionally distraught over the betrayal, Sara knows that if she wants to survive, she is going to have to fight back with an equally cunning and deadly plan of her own. (c) IFC
Critic Reviews for Breaking The Girls
Audience Reviews for Breaking The Girls
½
Atmospheric and suspenseful, Breaking the Girls is a B-grade version of a Hitchcockian thriller. After being fired from her job law student Sara Ryan is befriended by a rich socialite, but the friendship soon turns dark when the two begin to talk about forming a murder pact. Both Agnes Bruckner and Madeline Zima give strong performances; particularly Zima, whose role is quite demanding. And there's some mystery and intrigue to the murder plots (even though they're rather formulaic). Yet overall, Breaking the Girls is a mediocre crime drama that's pretty by-the-numbers.
Dann Michalski
Super Reviewer
Super sexualized, "Breaking The Girls" brings double crosses and a "Strangers On A Train" plot to the world of sexy twenty-somethings messing with sexual boundaries and continuously twisting agendas. Madeline Zima leads the pack, as the promiscuous Alex, struggling to hold onto her last connection with her stepfather, despite his new wife's (her ex) disdain for her. Always convincing and enigmatically sexy, Zima does her best to keep this film running smoothly despite its sometimes awkward plot twists. Agnes Bruckner as Sara, becomes the protagonist, as she loses her job, scholarship, and housing thanks to the prissy, know-it-all, Brooke (Shanna Collins) who has a personal vendetta against her since her boyfriend, Eric (Shawn Ashmore), has the hots for her. It becomes Alex's plan to trade murders with Sara as to lose all motives, but when Sara can't hold up her end of the bargain, things get messy. Similar to films like "Wild Things", with ever changing alliances and motivations, Jamie Babbit's "Breaking The Girls" becomes too heavy to handle by the end, and with one twist after another, they simply fail to register at a certain point, losing credibility and losing distinguishable dialogue. However sexy this film may be, there's not quite enough here to keep it feeling more like a made-for-TV movie rather than a fully formed feature film.
Christopher Haskell
Super Reviewer
Breaking The Girls Quotes
There are no approved quotes yet for this movie.