Breaking Upwards
(2010)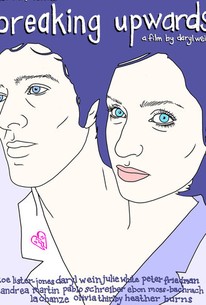 Movie Info
Their marriage turning stifling after just four years, a young New York couple attempts to escape their ennui by carefully strategizing their own breakup. Blurring the lines between fiction and reality, real-life couple Daryl Wein and Zoe Lister-Jones star as themselves in order to offer an unguarded exploration of young love, lust, and the hardships of codependency. By exploring alternatives to monogamy, creating arbitrary rules for their relationship, and doing everything in their power to avoid getting emotionally bruised, Daryl and Zoe attempt to discover a means of growing apart, together.
Critic Reviews for Breaking Upwards
Audience Reviews for Breaking Upwards
I think I was in my own transitional, break-up period when I first saw this movie about a stagnant couple that orchestrates an incremental break-up - spending less and less time with each other to cushion the emotional blow - so I really identified with the dragged out "break up that lasts longer than the relationship" heartbreak. Upon rewatch though, I found the movie lacking in establishing shots; there's no room to breathe between each quirky little on-day and off-day conflict. The emotions are still real, and the final break-up and goodbye scenes are still brutal and bittersweet, respectively. Daryl Wein and Zoe Lister-Jones have easy, soul-connected chemistry - smartly deriving this movie from a real-life experiment - but their fictional counterparts could have used more grounded reasons for getting together and breaking up. I wonder if they are still on-again-off-again now that Zoe has gotten more mainstream famous.
Alice Shen
Super Reviewer
A couple who are bored with their relationship incrementally break up. Breaking Upwards is a charming, realistic depiction of a couple who are right for each other even though it feels wrong. Strong performances by director/editor/co-writer Daryl Wein and co-writer Zoe Lister Jones carry the film, which has a wry wit and some smart dialogue. And the last shot is truly heart-breaking. There were few things about the film that I didn't like, but they were so essential to the story that they were impossible to ignore. At the beginning, the stated reason for their break up is that they're both "bored." I recall David Thewlis's monologue from Mike Leigh's Naked in which he rants against people who are bored despite having untold possibilities for engagement: "You have the universe explained to you, and you're bored with it," he says disdainfully. Equally, I recall a former teacher telling me, "If students say they're bored, then they're boring people." I have little patience for characters and real people telling me they're bored, so I was hoping that during the increments of the break-up, past issues would crop up so that we can understand that there is a deeper reason for their split. Most people in their early twenties haven't been hurt enough to deserve ennui. Also, while on their days off, Daryl and Zoe have no shortage of other suitors. In the construction of the film's plot, this seems like an easy way out. Most often, the choices in real life aren't between a semi-fulfilling relationship and attention from new, flawed suitors (flawed certainly in Zoe's case, but not so much in Daryl's); the choices in real life are between a semi-fulfilling relationship and loneliness, which is a condition that motivates people much more than the lack of fulfillment one finds from fucking one's co-star in a bad off-Broadway play. I wanted to see these characters more vulnerable without each other, which would have made the ending of their relationship so much harder to stomach. Overall, there is a lot to like about Breaking Upwards, and during all of my future (and one of my past) failed relationships, I'm going to use the phrase "Let's not break up; let's break upwards," but as a film, this indie comedy falls into the trapping tropes that most films of its ilk fall into, making it good enough to make me wish it were so much better.
Jim Hunter
Super Reviewer
A realistic depiction of both the hardships and growth of a breaking relationship.
Shawn Ewing
Super Reviewer
Breaking Upwards Quotes
There are no approved quotes yet for this movie.