Breathless
(1961)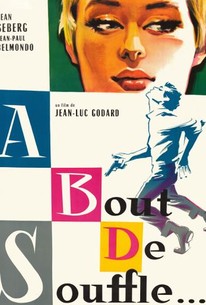 TOMATOMETER
AUDIENCE SCORE
Critic Consensus: Breathless rewrote the rules of cinema -- and more than 50 years after its arrival, Jean-Luc Godard's paradigm-shifting classic remains every bit as vital.
Movie Info
Enjoy brunch in the Torpedo Room before screening BREATHLESS hosted by John DeSando and Johnny DiLoretto. There was before BREATHLESS, and there was after BREATHLESS. Jean-Luc Godard burst onto the film scene in 1960 with this jazzy, free-form, and sexy homage to the American film genres that inspired him as a writer for Cahiers du cinéma. With its lack of polish, surplus of attitude, anything-goes crime narrative, and effervescent young stars Jean-Paul Belmondo and Jean Seberg, BREATHLESS helped launch the French New Wave and ensured that cinema would never be the same.
News & Interviews for Breathless
Critic Reviews for Breathless
Audience Reviews for Breathless
A landmark in cinema history, due mostly to revolutionary editing techniques, pop culture references, and a biting undercurrent of intellectualism.
Kase Vollebregt
Super Reviewer
What became the French New Wave movement started with this debut from fledgling director Jean-Luc Godard, a man who has changed perspective, and the minds of his audience, since this first film appeared on the scene. Cobbled together with a small budget, with little time, and no experience, it doesn't meet the traditions of classic Hollywood films, but still retains an authenticity unrivaled throughout time. What this film really embodies in sentiment, is that it's cool. Even the characters are alternative, since one is a sex obsessed gangster with a penchant for showy gestures and little conviction, and the other is a pixie haired student, intent on being free and unburdened. They don't seem to have the same ire for traditional constructs as Hollywood heroes and heroines of the past. Throw in chase scenes, sex, jazz, and rough editing and shooting and this film is the epitome of new and smooth. Even though I didn't fully understand the New Wave movement before I saw this film, I immensely enjoyed how vibrant this film was. It really is the first instance of a director not caring about the constraints of filmmaking, and just makes a film that embodies new ideals and tries to tell a story without the problems of plot or structure. For anyone who wants to watch a film that feels timeless in many ways and yet very classic, this is the film for you.
Spencer S.
Super Reviewer
"Breathless" is the perfect definition of Romance and Thriller, because the entire time, you are wondering if the accusations are real, even though you kind of know that they are. I loved every second of this film, because it was the beginning of the era that sparked the romance/thriller genre. I do believe that reoccurring moments throughout this film really hold up, and the physical signature that the main character gives after he smokes his cigarettes or is around his lady, is very memorable. This is one of the best classics I have seen, and the plot thickens as the film progresses. Although it shows it's age at times, making many jump cuts, it is forgivable when you are immersed in this incredibly told story. What a film!