Brick
(2006)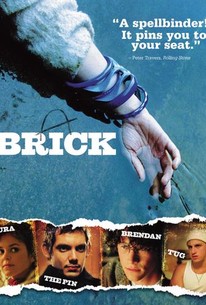 TOMATOMETER
AUDIENCE SCORE
Critic Consensus: This entertaining homage to noirs past has been slickly and compellingly updated to a contemporary high school setting.
Movie Info
"Brick," while taking its cues and its verbal style from the novels of Dashiell Hammett, also honors the rich cinematic tradition of the hard-boiled noir mystery, here wittily and bracingly immersed in fresh territory - a modern-day Southern California neighborhood and high school. There, student Brendan Frye's piercing intelligence spares no one. Brendan is not afraid to back up his words with actions, and knows all the angles; yet he prefers to stay an outsider, and does - until the day that his ex-girlfriend, Emily reaches out to him unexpectedly and then vanishes. Brendan's feelings for her still run deep; so much so, that he becomes consumed with finding his troubled inamorata. To find her, Brendan enlists the aid of his only true peer, The Brain, while keeping the assistant vice principal only occasionally informed of what quickly becomes a dangerous investigation. Brendan's single-minded unearthing of students' secrets thrusts him headlong into the colliding social orbits of rich-girl sophisticate Laura, intimidating Tugger, substance-abusing Dode, seductive Kara, jock Brad and - most ominously - non-student The Pin. It is only by gaining acceptance into The Pin's closely guarded inner circle of crime and punishment that Brendan will be able to uncover hard truths about himself, Emily and the suspects that he is getting closer to.
Audience Reviews for Brick
While some may get more out of it than others, "Brick" is the type of film that you either choose to go along with or you don't. As Brendan discovers his ex-girlfriend has been murdered, he begins to uncover the mystery by working with an underground crew of drug dealers. While you may think all of the answers are given by the end of this film, I surely think the opposite. They try very hard to explain everything through the visuals and through excessive amounts of dialogue, and I think that worked about 75% of the time. Joseph Gordon-Levitt is great as the leading man and director Rian Johnson does a great job for his first ever feature film. With incredibly intriguing cinematography, a great (yet complex) script, and energetic editing, "Brick" is a very solid film. It definitely warrants multiple viewings in order to understand the full message being given. I would highly recommend this movie to film junkies. Other than that, I feel this film will leave too much to be desired. Personally, as a whole, I think this is a great film!
A mystery with nothing to really figure out, ala the all-tell-no-show style of "Tinker, Tailor, Soldier, Spy." The scenes are terribly episodic, and they don't show HOW our hard-boiled Encylopedia Brown solves any of the cryptic clues. The scenes merely jump from Brendan following flimsy lead after flimsy lead, then getting beat up, then calling someone to set up something for some reason, then confronting another someone who was implicated in an earlier scene without revealing his thought process. The script suffocates from too much plot and hardly any connective tissue, and it's all covered up with this overcooked, pseudo-hip noir patois. The characters don't SAY anything; they're just written to sound unique. The big reveal in the end is also anticlimactic. The baby is Tug's and arguably only tangentially related to the drug plot. Emily's first phone call filled with intentionally confusing jargon about "the brick" and "Pin" and "Frisco" is all just a ham-handed inciting incident catalyzing this wild goose chase. The filming is chic and cool with the zooms during the fight scenes and the high class, vaguely "Eyes Wide Shut" high school environment, but the style doesn't atone for the lack of substance.
Alice Shen
Super Reviewer
½
I know this film is several years old, but it makes me happy to see that we still have films being released once in a while that are unique and original, and not a sequel, remake, or just a rehash of the same old crap. This was my second time seeing a Rian Johnson film, and this is where it's at. I know it came out before The Brothers Bloom, but hey, I can't always get to see a director's films in order. This film is a hard-boiled detective mystery (complete with period slang) which is already cool, but made even cooler by the fact that it is set in contemporary times at an unnamed high school somewhere in California. Awesome. This film isn't merely just a nod to a genre though. It stands on its own and is a very compelling and really well made thriller that, if nothing else, could at least get people interested in the stuff that inspired it. Joseph Gordon-Levitt is at the center of this tale about an everryman thrust into a situation that quickly sees him in over his head and on very unstable ground as he tries to piece together the truth surrounding a phone call that got him in the mess to begin with. The film has a great sense of style, look, and atmosphere. The material, which involves drugs and murder, is suitably grim, but thankfully there's some wry humor sprinkled throughout to take the edge of (slightly). The film seems a bit hard to follow at first, but that's kinda the fun of it. For those who can't keep up though, it all gets answered in the end, so there. This might be a sign that the script could have been better at clarifying things, but I prefer to see it as a way of making the viewer engage with it and think, instead of just sitting there. This is some really good stuff, and I'm glad I finally saw it. You should not hesitate to do the same.
Chris Weber
Super Reviewer
Brick Quotes
| | |
| --- | --- |
| Brendan Frye: | You okay to op for me again? |
| The Brain: | What first, tip the bulls? |
| Brendan Frye: | No, bulls would gum it. They'd flash their dusty standards at the wide-eyes and probably find some yegg to pin, probably even the right one. But they'd trample the real tracks and scare the real players back into their holes, and if we're doing this I want the whole story. No cops, not for a bit. |
| | |
| --- | --- |
| Brendan Frye: | You okay to op for me again? |
| The Brain: | What first, tip the bulls? |
| Brendan Frye: | No, bulls would gum it. They'd flash their dusty standards at the wide-eyes and probably find some yegg to pin, probably even the right one. But they'd trample the real tracks and scare the real players back into their holes, and if we're doing this I want the whole story. No cops, not for a bit. |
| | |
| --- | --- |
| Brendan Fry: | I can be such a cad sometimes I just hate myself |
| Brendan Fry: | I can be such a cad sometimes I just hate myself. |
| | |
| --- | --- |
| Brendan Fry: | Okay, you got me. I'm a scout. I've been watching your game for about a month, but that story... you clenched it. You've got spirit, kid. When can you get to Minneapolis? |
| Brendan Fry: | Oh yeah? |