Bride Flight
(2011)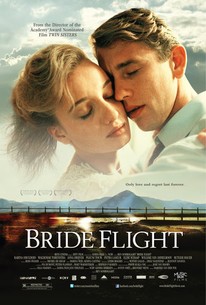 Movie Info
A forbidden love, an impossible choice, a secret pact. Eager to escape the damp and suffocating atmosphere of post-war Holland, Dutch beauties Marjorie, Ada and Esther meet each other on the immigration flight to New Zealand, en route to join their future husbands, who are already settled there.During the flight the three young women befriend Frank, a young man who is also immigrating to seek a prosperous life in New Zealand. In their early years in this new country, the lives of Marjorie, Esther, Ada and Frank become entangled in brief relationships of love, lust and family before losing touch. It is only when the women reunite again fifty years later at Frank's funeral that they discover how much their lives had become intertwined through their different relationships with Frank. Inspired by the true story of the Last Great Air Race from London to Christchurch in October 1953, the KLM aircraft that won the race carried 40 Dutch immigrants to New Zealand. -- (C)Music Box
News & Interviews for Bride Flight
Critic Reviews for Bride Flight
Audience Reviews for Bride Flight
I was very taken in by this nice Dutch drama. It was really well done. A beautiful story with a wonderful cast. The characters are well defined, and interesting. The scenery is beautiful, as well. Nice movie!
Cynthia S.
Super Reviewer
This was little more than a melodramatic romance novel brought to film, but one that was well told and interestingly presented. The characters were well drawn and their back stories satisfactorily filled in. The three pairs of actors portraying the women were excellently matched, the younger women easily discernible in the older. This viewer found the dark haired young Esther, played by Willeke van Ammelrooy to be particularly enchanting and the New Zealand scenery to be breathtakingly beautiful. The story was told in flashbacks as the three older women prepared for a funeral and revolved around the flight that brought them together and the events after they had emigrated that drove them apart. This viewer was surprised at how completely he was drawn in, even shedding a tear or two at the sweet way in which the film ended. While this will not alter the course of human events, it will nevertheless entertain.
Mark Abell
Super Reviewer
½
I must admit that Dutch Cinema has improved during these last years, and with Bride Flight they proved it again.It was a beautiful movie that showed the life of 4 people, and the connections between them since they met on a plane for a new start in New Zealand. It was a romantic drama that took beyond just the romance. It was more the about the relationships these four people had with each other,the choices they made and the regrets and satisfactions that came from those choices after they lived out their lives and reached old age. I am not such a fan of chick flick love stories, but Bride Flight was more about life in general and the outcomes from the choices which made it more interesting to me. The four lead characters were absolutely fantastic. Their acting was superb and each one of them made me fall in love with them in their own unique way. The ending was emotionally touching as the three women look back at the man that changed all their lives in a way they never thought possible.
Daisy Maduro
Super Reviewer