Bride of Chucky
(1998)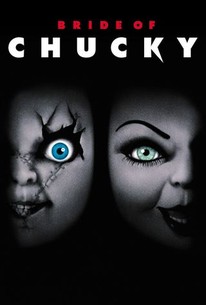 TOMATOMETER
AUDIENCE SCORE
Critic Consensus: Bride of Chucky is devoid of any fright and the franchise has become tiresomely self-parodic, although horror fans may find some pleasure in this fourth entry's camp factor.
Movie Info
This horror film, directed by Ronnie Yu, marked a return (after an eight-year lapse) of Chucky and the Child's Play series that began in 1988. At the moment of his death, the spirit of former serial killer Charles Lee Ray was mystically relocated in the doll Chucky (voice of Brad Dourif). After being salvaged from the evidence morgue by his ex-girlfriend Tiffany (Jennifer Tilly) and a corrupt cop, Chucky is put back in action when Tiffany sews his pieces back together and works a voodoo spell to revive his sinister self. Tiffany sees her dreams of marriage aren't working out, so she keeps Chucky locked away. After an escape, Chucky electrocutes Tiffany by pushing a radio into the bathtub, delivering a chant that puts the spirit of Tiffany into a bridal figurine. Chucky's amulet can switch them back into their original human forms, so they head for New Jersey where the amulet is buried -- putting cops in motion, along with car-crash carnage. ~ Bhob Stewart, Rovi
News & Interviews for Bride of Chucky
Critic Reviews for Bride of Chucky
Audience Reviews for Bride of Chucky
½
After the well had seemingly run dry after 'Child's Play 3', 'Bride of Chucky' is a meta-horror reinvention of the killer doll franchise. Injecting the series with the contemporary elements of copious Fangoria gore (the Pinhead moment is stupendous), a headbanger Rob Zombie-contributed soundtrack, an exuberant Hong Kong director (Ronny Yu) and a spangly sense of humor (Chucky summarizes that "If this were a movie, it would take two or three sequels to do it justice."), 'Bride of Chucky' is exactly the cocktail that the Lilliputian murderer necessitated. The nasally vocal work from Jennifer Tilly compliments the acid-tongued grouchiness of Brad Dourif. Squabbling over Martha Stewart recipes and monogamy, the domestication-via-relationship satire is an absolutely hilarious contrast and it is overt that improvisation was used for the scenes between the Tiffany and Chuck puppets. It should be noted that the expressive animatronics have dramatically ameliorated since the 1988 original and the movements look effortlessly fluid. The rules around the soul transference with the voodoo amulet are now jettisoned mostly but, within the genre-bending confines of Don Mancini's lampooning script, it is appropriate to violate canon. The film concludes on a tawdry jab at sequel-bait with the birth of Chucky's spawn. Even the presence of Katherine Heigl can't derail this spirited successor.
Cory Taylor
Super Reviewer
½
The one of most funny and entertaining sequel of Chucky franchise. Still, the screenplay is a little amateur and poor. But as a good fan, I doesn't care so much, it's a great time of see this sequel.
Lucas Martins
Super Reviewer
½
The series finally get's back on track with this fourth instalment in the Chucky franchise. This time, Charles' ex-girlfriend finds his pieces and reassembles them and casts one last spell to resurrect him once more. She tricks him into thinking he is free again, and after all goes wrong, her body is then living through another doll (a female). The two dolls fall in love just like they used to and make love. With some great comedy, awesome bloody scenes, and a story that is almost comparable to the likes of the original, "Bride of Chucky" is one of the best in the series. Highly recommended to fans of the series. All that being said, none of the films are great in any way, they are just great fun!
Bride of Chucky Quotes
| | |
| --- | --- |
| Chucky: | Go ahead and shoot! I'll be back! I ALWAYS come back!... But dying is such a bitch. |
| | |
| --- | --- |
| Jesse: | They think we're mass murderers! |
| David: | Multiple murderers, actually. Mass murderers kill a whole lot of people at the same time, like at the post office. |
| | |
| --- | --- |
| Chucky: | Go ahead and shoot! I'll be back! I ALWAYS come back!... But dying is such a bitch. |
| | |
| --- | --- |
| Tiffany / Tiffany Doll: | You never really killed anybody, did you? Did you? Did you, you pathetic worm! |