The Bride of Frankenstein
(1935)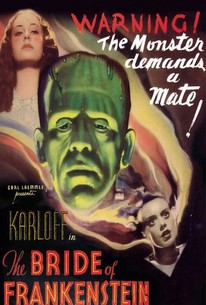 TOMATOMETER
AUDIENCE SCORE
Critic Consensus: An eccentric, campy, technically impressive, and frightening picture, James Whale's Bride of Frankenstein has aged remarkably well.
The Bride of Frankenstein Videos
Movie Info
Dr. Frankenstein is forced to tempt fate once again by creating a suitable mate for his monster.
Critic Reviews for The Bride of Frankenstein
Audience Reviews for The Bride of Frankenstein
Whale returns to his Frankenstein with this amusing sequel that has an even campier, deliciously wrier humor and offers more depth to Karloff's Monster, while everything is also more complete here (despite gaps in logic), including a score that was missing in the original movie.
Carlos Magalhães
Super Reviewer
As far as sequels go, "The Bride of Frankenstein" is great, however, I felt like I wanted more of the bride than what was delivered. Instead of having the entire film build to that one climatic moment, it should have happened earlier on and then have added more suspense to whether or not it would work out. I felt a bit let down with this sequel. Boris Karloff actually improves on his acting from the first and makes you feel for him in every moment throughout this film, and I will say that is the one aspect that was done better, emotion. The character of Frankenstein's Monster has much more to do here, but nobody else seems to be as motivated as he does for finding his mate. Overall, it is a great classic film that is definitely rewatchable, but the original is the true marvel. "The Bride of Frankenstein" is great!
Even though 1931's "Frankenstein" was neatly wrapped up at the end, killing off the doctor and his monster, Universal intended to make a sequel to the monsterously successful film (Universal's policy was to use the same crew for the next film, which is why production was delayed four years, waiting for the director to become available again). Director James Whale wasn't crazy about making a sequel, and with "Bride of Frankenstein", he chose to have the monster speak (something Karloff was set against). The film begins with Mary Shelley and Lord Byron discussing the "complete" story of Frankenstein, the one never heard before. Of course the Doctor and the monster survived the fire at the wind mill, and as the doctor rested and recouped, the monster continued to reek havok on the villagers, exacting revenge upon them. That is, until he meets an old blind hermit who takes him in, and teaches him to speak. Doctor Frankenstein, meanwhile, is visited by a Doctor Pretorius, a scientist who, like himself, is in the business of creating life. But whereas Frankenstein does it by piecing together old bodies, Pretorius creates life from scratch (the flaw being that they're little miniature people). Pretorius wants to combine his work with Frankenstein's so that they might create a race of manmade people, and proposes that they work together to create a mate for the creature. The film is a contrivance to be sure, but the uncomfortable creepiness of the monster is still there. In Mary Shelley's book, Frankenstein's monster was literate, capable of thought and feeling but evil because it had been created not by God, but by man and therefore was without a soul. In the film version of Frankenstein, the Creature is a failure of science, an aberration of nature, a sub-human. It's horrific by nature of it's existence. We may feel pity for it, but we cannot suffer it to live. "We belong dead!" screams the monster in it's horror, it's horror of self-awareness. Every fiber of it's being screams out for death, and yet it exists in spite of mother nature and God himself. Even the brief respite bought from friendship and food and wine can't satisfy. For the creature, life is only pain. And yet, it clings to it in spite of itself. It's one of the great mysteries of the monster, of "Frankenstein", and life in general. For some, "life is pain", for the rest, we can only shield ourselves from it's inevitable conclusion.
Devon Bott
Super Reviewer
The Bride of Frankenstein Quotes
| | |
| --- | --- |
| Dr. Septimus Pretorius: | I grew them from seed |
| Dr. Septimus Pretorius: | I grew them from seed. |
| | |
| --- | --- |
| Minnie: | It's a doctor Prae-tor-ius, he says, on a secret grave matter, he says. |
| | |
| --- | --- |
| The Monster: | Yes, go, you live, go!.....You stay we belong dead |
| The Monster: | Yes, go, you live, go! You stay we belong dead. |
| The Monster: | Yes, go! You live! Go! [to Pretorius] You stay! We belong dead! |
| | |
| --- | --- |
| Dr. Septimus Pretorius: | Alone you created a man. Now, together we will create his mate. |
| Henry Frankenstein: | You mean... |
| Dr. Septimus Pretorius: | Yes. A woman. That should be really interesting. |