Bride of the Gorilla
(1951)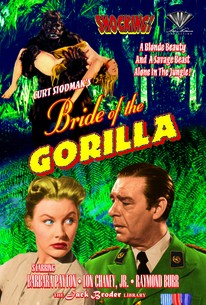 Movie Info
A man (Burr) travels to Africa to manage a rubber plantation, where he finds a beautiful wife. A native woman uses voodoo on him and he is transformed into a gorilla. Chaney portrays a local cop on his trail.
Critic Reviews for Bride of the Gorilla
Audience Reviews for Bride of the Gorilla
½
Not a bad movie for being filmed in 1951. After all it has Raymond Burr (Perry Mason, and Ironside), the beautiful Barbara Payton, and Lon Chaney. It was a change seing Chaney playing the simple part as a Police Commisner. After Burr helps his former Employer die, a jungle witch puts a curse on Burr who at night turns into a gorilla, (Chaney and The Wolfman). Of course in the end the Gorilla is killed but noot with silver bullets. My copy came from the Mill Creek Sci Fi 50 Movie Pack, its also in the Sons of Kong Collection. All in all its a good movie worth 3 3/4 Stars but not 4, so her on Flixster it gets a3 1/2 star rating.
Bruce Bruce
Super Reviewer
A rubber-plantation manager (an young and surprisingly amoral Raymond Burr) lusts after the wife of his employer: murder, black magic, guilt and a strange creature terrorizing the jungle follow. Given the silly premise and sillier title, this is actually a fairly well-scripted and acted, though cheap, WOLFMAN ripoff that should just hold your attention for it's 66 minute running time. Lon Chaney, Jr. appears as a South American native, but doesn't even attempt a Spanish accent (?)
A lame rip off of the Wolfman.
Anthony Valletta
Super Reviewer
Bride of the Gorilla Quotes