The Bride With White Hair
(1993)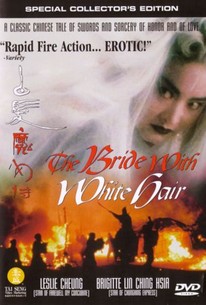 The Bride With White Hair Photos
Movie Info
This Hong Kong epic melodrama is based on an ancient Chinese fable about a doomed love affair between a young man and a strange mountain woman. Adapted from a novel by Hong Kong novelist Leung Yusang, the film is set in the Ming dynasty and chronicles events between feuding clans.
Critic Reviews for The Bride With White Hair
Audience Reviews for The Bride With White Hair
I can clearly see where the inspiration for my beloved Xena came from, but this cheesy Hong Kong martial arts film is just passable entertainment that relies too much on the use of step-printed slow motion and is filled with repetition and expository dialogue instead of enough fighting.
Carlos Magalhães
Super Reviewer
A Classic Chinese Tale Of Swords And Sorcery Of Honor And Of Love and all that. Not bad.
½
The Bride With White Hair is a curious beast. Much of the first half of the film feels like you've seen it a hundred times before (a troubled sifu/student relationship, divided loyalties, warring clans and the rise of what would become a united China) and the style often looks like a relatively low-budget film trying to look more expensive than it is rather than the genuinely expensive film it was, with director Ronny Yu shooting much of the film in near darkness with deep blacks, heavy blue filters and smokey backlighting, stylistic devices that aren't to everyone's visual taste. The action scenes are often played out via jerky step-printing (where the film is shot at around 12 frames per second or less but each frame is printed twice or more to create a sense of motion at normal speed that's either heightened or degraded depending on your point of view). While the film was shot on massive sets (genuine exteriors are few and far between), they're neither lit or shot to stress their scale or often to be particularly visually interesting, with much of the early action of the film very deliberately styled after a shadow-puppet play, all profiles and silhouettes. And yet gradually it casts its spell over you and begins to grip as the story becomes more ambitious and intriguing. On the surface it's a Romeo and Juliet story between Leslie Cheung's heir apparent to a clan dedicated to good but filled with doubt no-one else shares about the severity with which it is enforced and Brigitte Lin's "wolf-girl" (meaning she was raised by wolves rather than turns into one) who has been trained as a supernatural killing machine by an evil pagan cult and who sports a particularly lethal whip that Indiana Jones would kill for - sharper than a meat cleaver and very handy for slicing-and-dicing any number of opponents. Their inevitably doomed romance occupies a moral middle ground that, naturally, neither side will tolerate, with their respective rejected mentors eager to reclaim their undivided loyalty. In many ways the film is a rejection of all the intransigent moral codes of the fantasy swordplay genre, where even the "good" clan and their allies are so blinded by their own self-importance that they have no qualms about killing innocent peasants just to be on the safe side in case they're lying ("Better to kill a hundred innocents than let one guilty escape"). And just to add to the complexity, the film offers a truly unique villain ? a pair of male/female Siamese twins, the sister often goading her brother over his inability to understand the woman he loves. The finale is certainly unusually ambitious, and can be seen either as a fantasy battle or as a physical realisation of the hero's nervous breakdown: either way, it offers a welcome level of emotional weight to what could easily have been clichéd fare. It's a film that has a lot working against it, but it lingers in the memory long after it's over. A shame Tartan's UK DVD is such poor quality (and, aside from some good film notes, extras-free as well: a pity since the troubled shoot ? which apparently saw a few Triad bombing attacks on the studios to add to their woes ? could bear further examination).
Cassandra Maples
Super Reviewer
The Bride With White Hair Quotes
There are no approved quotes yet for this movie.