The Brides of Dracula
(1960)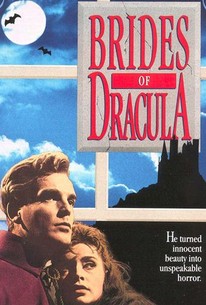 The Brides of Dracula Photos
Movie Info
Hammer Films and director Terence Fisher followed the excellent Horror of Dracula with this well-made, richly-colored sequel which suffers only from the conspicuous lack of Dracula himself -- since Horror's Christopher Lee had declined participation in further Dracula sequels for the time being. In his stead, we have young, blond Baron Meinster (David Peel) providing the requisite vampiric threat. Though imprisoned in the family estate by his mother, Meinster is released from his silver chains by an unsuspecting French teacher (Yvonne Monlaur), through which he gains access to a veritable smorgasbord of nubile wenches at a girls' school. Fortunately, master vampire killer Dr. Van Helsing (Peter Cushing) is on the case. Besides featuring some of the best acting, photography and period detail of the Hammer Dracula series, this is also one of the first to delve into the more sexual aspects of vampirism, with implicit suggestions of incest, sadomasochism and homosexuality.
Critic Reviews for The Brides of Dracula
Audience Reviews for The Brides of Dracula
½
A girls school in Transylvania becomes targeted by the son of you know who for you know what. Hammer Studios was churning these period pieces out like my grammar school math teacher assigned homework and, while there's certainly a just-one-more feel to the proceedings, quality does indeed show. In typical style, a lurid fantasy creepily told. Who builds a girls school in Translyvania anyway? Still better than the gore pieces done today.
Kevin M. Williams
Super Reviewer
½
Peter Cushing is awesome as ever, but I was disappointed that Christopher Lee wasn't the vampire this time. The story is good, but the other actors, especially the lead girl, weren't. Overall, it's a pretty good movie, but it could have been better.
½
Baron Meinster (David Peel) picks up where Christopher Lee's Dracula last left off. The Baroness Meinster (Martita Hunt) has an interesting little scheme working for her, she plays the evil little spinster while picking up to stray ladies to feed to her vampire son. The Baroness tries to keep him safe at the castle by locking him up but when he puts the moves on a lovely French school teacher passing through to her destination. Only one man can rescue the countryside and that man is Dr. Van Helsing (Peter Cushing}. Peel is an interesting choice as the lead vampire. Handsome and charming he's basically the complete opposite of Chris Lee's Dracula. He also lacks the intensity but at least Cushing pops in to pick up the slack. The production design is on par with nearly all Hammer productions. You may say that their films are a bit stuffy but I say that is part of their charm. The company made Gothic horror and they did it well.
Cassandra Maples
Super Reviewer
The Brides of Dracula Quotes
There are no approved quotes yet for this movie.