Bridge of Dragons
(1999)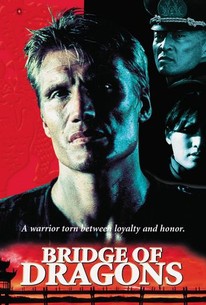 AUDIENCE SCORE
Critic Consensus: No consensus yet.
Movie Info
A military leader who is drunk with power tries to take control of a rival kingdom in this rumble in the jungle Dolph Lundgren action thriller. The young princess who helps guide the nation flees for her life, and a champion warrior (Lundgren) is set out by the crazed general to capture her. But before his assignment is completed, the warrior finds his loyalties are severely tested.
Critic Reviews for Bridge of Dragons
Audience Reviews for Bridge of Dragons
This odd action flick isn't too bad in spots but its still horrendously bad in the acting and action department and yet another very poor film from an increasingly desperate seeming Dolph Lundgren. Here Dolph faces off against cult character actor Cary-Hiroyuki Tagawa which is a big plus as Cary is a good baddie and has unique characteristics just like our beloved Lance Henriksen. Cary actually looks the part for 'M. Bison' in 'SFII' if you ask me, he would of been perfect for the role and you can see why in this film. Its a weird flick set in an odd future where the baddies dress in Nazi uniforms (lol! unintended I'm sure), there is a king and Princess and everything has a 'Mad Max' feel to it. The action sequences are terrible as usual with some of the worst extras I've seen, but there are some nice martial arts moves from Cary, Shane (warrior princess) and Dolph. The film does have a slight Japanese/Chinese manga/martial arts movie feel running through at times which does save it ever so slightly but the dodgy chopper sequences ruin any chance of redemption.
Phil Hubbs
Super Reviewer
Bridge of Dragons Quotes
There are no approved quotes yet for this movie.