A Bridge Too Far
(1977)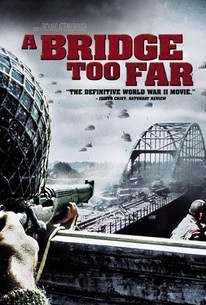 TOMATOMETER
AUDIENCE SCORE
Critic Consensus: A Bridge Too Far is a war movie too long, although top-notch talent on both sides of the camera keeps the end result consistently watchable.
Movie Info
It's late 1944, and the Allied armies are confident they'll win the World War II and be home in time for Christmas. What's needed, says British general Bernard Law Montgomery, is a knockout punch, a bold strike through Holland, where German troops are spread thin, that will put the Allies into Germany. Paratroops led by British major general Robert Urquhart (Sean Connery) and American brigadier general James Gavin (Ryan O'Neal) will seize a thin road and five bridges through Holland into Germany, with paratroops led by Lieutenant Col. John Frost (Sir Anthony Hopkins) holding the most critical bridge at a small town called Arnhem. Over this road shall pass combined forces led by British Lieutenant Gen. Brian Horrocks (Edward Fox) and British Lieutenant Col. Joe Vandeleur (Michael Caine). The plan requires precise timing, so much so that one planner tells Lieutenant Gen. Frederick Browning (Dirk Bogarde), "Sir, I think we may be going a bridge too far." The plan also has one critical flaw: Instead of a smattering of German soldiers, the area around Arnhem is loaded with crack SS troops. Disaster ensues. Based on a book by historian Cornelius Ryan, A Bridge Too Far is reminiscent of another movie based on a Ryan book, The Longest Day. Like that movie, it is loaded with more than 15 international stars, including Sir Laurence Olivier, Robert Redford, Hardy Krueger, Gene Hackman, Maximilian Schell, and Liv Ullman. ~ Nick Sambides, Jr., Rovi
News & Interviews for A Bridge Too Far
Critic Reviews for A Bridge Too Far
Audience Reviews for A Bridge Too Far
Aside from a hokey sound track, this is an excellent WWII war film about real life events. And you'll see a cast of young stars who went on to greatness. Certainly worth watching.
Christian C
Super Reviewer
½
So it seems the Allies did not win every battle of the WWll, despite what's depicted in popular film: There were occasions of sad defeat and this is one of them, British General Montgomery's ill-conceived plan to crash through the Netherlands into Germany. A large project from the get-go, a large Brit, Yank, German and Dutch cast attempt to convey why Operation Market Garden eventually failed. Great shots of Holland (my fav foreign country) abound.
Kevin M. Williams
Super Reviewer
A Bridge Too Far recreates Operation Market Garden. Set in September 1944, this film is a superb recreation of the failed operation that could have ended the war by Christmas of that year. A Bridge Too Far is one of the most accurate portraits of Operation Market Garden, along with the portrayal of the failed operation in HBO'S Band of Brothers. A Bridge Too Far is a superb war film with a collection of some of cinema's finest actors. Every actor here are phenomenal in the parts they play, and you really get insight from what happened during operation Market Garden. The operation failed of inaccurate or little intelligence and the Allies encountered heavier German resistance than they originally anticipated. A Bridge Too Far is a film that tries to focus more on the historical aspects of the battle, and with that in mind, it's not a pure action film. Yes, there is a lot of fighting, but this film isn't meant to be an action film, I see it more as a history lesson that brings to light why this operation failed. If you're expecting a straight forward action packed war film, you'll be sadly disappointed. Richard Attenborough tried to focus on the realities of war, and focus more on the failed operation than giving the viewer a more straight forward action picture. That's why I enjoyed A Bridge Too Far, I am a WWII nut, I am obsessed with the subject, and I really enjoyed the fact that they tried to stay truthful to the real event, and not ruin it with your typical Hollywood stylized action scenes. There are some great war scenes in this film of course, and it's thrilling to watch. The all star cast adds a lot more depth to this film, and they make this film worth watching. Sean Connery, Michael Caine and Edward Fox really stood out for me. The only complaint I had the film was the fact that they tried to include a bit of Hollywood style drama into the story, which I think was unnecessary, as this was a strong film altogether. This is one of the classic war films to watch.
A Bridge Too Far Quotes
There are no approved quotes yet for this movie.