Bridget Jones's Diary
(2001)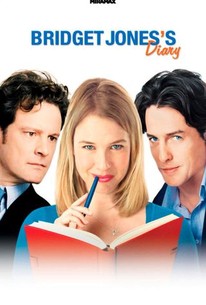 TOMATOMETER
AUDIENCE SCORE
Critic Consensus: Though there was controversy over the choice of casting, Zellweger's Bridget Jones is a sympathetic, likable, funny character, giving this romantic comedy a lot of charm.
Bridget Jones's Diary Videos
Bridget Jones's Diary Photos
Movie Info
Based on Helen Fielding's hugely popular novel, this romantic comedy follows Bridget (Renee Zellweger), a post-feminist, thirty-something British woman who has a penchant for alcoholic binges, smoking, and an inability to control her weight. While trying to keep these things in check and also deal with her job in publishing, she visits her parents for a Christmas party. They try to set her up with Mark (Colin Firth), the visiting son of one of their neighbors. Snubbed by Mark, she instead falls for her boss Daniel (Hugh Grant), a dashing lothario who begins to send her suggestive e-mails that soon lead to a dinner date proposition. Daniel reveals that he and Mark attended college together, during which time Mark had an affair with his fiancée. When Bridget finds Daniel cavorting with an American colleague, she decides to change her life with a new job as a TV presenter. At a dinner party, she bumps into Mark again, who expresses his affection for her; when Daniel claims he wants Bridget back, the two fight over who deserves her affections the most. Popular British performers Gemma Jones, Jim Broadbent, and Shirley Henderson appear in the supporting cast. ~ Jason Clark, Rovi
Critic Reviews for Bridget Jones's Diary
Audience Reviews for Bridget Jones's Diary
A decent Rom-com with some very funny scenes, but sooo predictable. Not quite sure about the cult status, but quite enjoyable any how.
½
Zellweger is quite adorable in this heartwarming romantic comedy that compensates for its relative predictability with a lot of charm and heart, and it is also very nice to see how the great songs heard in the film punctuate what happens on screen with a good deal of sensibility.
Carlos Magalhães
Super Reviewer
Excellent adaptation of the Helen Fielding novel. Bridget is unlucky in love, a little overweight, smokes too much and has an embarrassing mother. This is her lucky year - two men but will she chose Mr. Right? I love the fighting scene in the street. Great cast. Funny rom com. You just sympathise with Bridget all the way, singleton in her 30s with smug married couples. Mark Darcy is dreamy. I find it amusing that they picked Colin Firth because he played Mark Darcy in Pride and Prejudice.
Candy Rose
Super Reviewer
Bridget Jones's Diary Quotes
| | |
| --- | --- |
| Bridget Jones: | Now I'll go home and.......de-bunny |
| Bridget Jones: | Now, I'll go home and... de-bunny. |
| | |
| --- | --- |
| Bridget Jones: | And that was it. Right there. Right there, that was the moment... I suddenly realized that unless something change soon I was going to live a life where my major relationship was with a bottle of wine and I'd finally die fat and alone and be found three weeks later half-eaten by Alsatians, or I was about to turn into Glenn Close in Fatal Attraction. |
| | |
| --- | --- |
| Mark Darcy: | Mother, I do not need a blind date. Particularly not with some verbally incontinent spinster who smokes like a chimney, drinks like a fish, and dresses like her mother. |
| | |
| --- | --- |
| Bridget Jones: | Interviewer: What do you think about the El Nino phenomenon? Bridget: It's a blip. Latin music's on its way out. |
| Interviewer 1: | What do you think about the El Nino phenomenon? |
| Bridget Jones: | It's a blip. Latin music's on its way out. |