Bridget Jones: The Edge of Reason
(2004)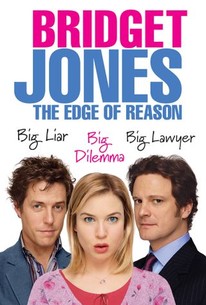 Bridget Jones: The Edge of Reason Videos
Bridget Jones: The Edge of Reason Photos
Movie Info
Based on author Helen Fielding's sequel to Bridget Jones's Diary, Bridget Jones: The Edge of Reason picks up four weeks after the original film left off, with Bridget (Renée Zellweger) emotionally satisfied at long last with Mark Darcy (Colin Firth), her barrister boyfriend. Stability in Bridget's life, however, quickly becomes a contradiction in terms. Though Mark is openly supportive of Bridget's eccentricities -- and there are many -- she is nonetheless threatened by Mark's young, nubile intern, not to mention irked at finding out that he is, among other less desirable qualities in her eyes, a conservative voter. Complicating issues further is the reentrance of her ex-lover, Daniel Cleaver (Hugh Grant), whom Jones, perhaps mistakenly, thought she had finally gotten over. Before long, the situation escalates into another series of embarrassing circumstances for Bridget, who is faced once again with a crippling feeling of self-doubt and has only her diary and friends to combat it. ~ Tracie Cooper, Rovi
News & Interviews for Bridget Jones: The Edge of Reason
Critic Reviews for Bridget Jones: The Edge of Reason
Audience Reviews for Bridget Jones: The Edge of Reason
½
While in the first movie Bridget Jones was an adorable character, here she is a neurotic, irritating and selfish caricature that gets herself in only stupid, artificial situations, and even worse than the fact that this film seems like an unfocused collage of sketches is that it is not funny at all.
Carlos Magalhães
Super Reviewer
A comedy that is an exact retread of the original. I don't like movies that backtrack. Here we have Bridget Jones suddenly doubting Darcy's fidelity. This leads to misunderstandings, where she is soon, once again, torn between Darcy and Cleaver. The film redoes the same jokes, with funny Christmas sweaters, and another Firth and Grant fight. These are also the funniest moments. At some point the film goes off the rails in such a confusing fashion. Jones ends up arrested because of drug possession and she winds up in a Thai prison. This sounds like some depressing drama, but it's OK, because she teaches the inmates how to have fun with a song and dance number and she also gives them chocolate. If a movie makes a Thai prison look good, I'm pretty sure it fails overall. It also has a climax where they play 3 songs back to back, I assume to sell that ever important soundtrack. A guaranteed hit on Mother's Day I bet.
Luke Baldock
Super Reviewer
Warning spoilers! Second part, she gets her man, ends up in a Thai prison, loses her man, gets him back again. Fave scene - fighting in the fountain. Hilarious! Great cast.
Candy Rose
Super Reviewer
Bridget Jones: The Edge of Reason Quotes
| | |
| --- | --- |
| Bridget Jones: | It is a magic mushroom moment, isn't it? |
| | |
| --- | --- |
| Bridget's Dad: | Dad: Ciggy? Bridget Jones: No, no, thanks. I've given up again. Dad: Shame. I find them very useful. I take great comfort in the fact they might kill me before things get worse. |
| Bridget's Dad: | Ciggy? |
| Bridget Jones: | No, no, thanks. I've given up again. |
| Bridget's Dad: | Shame. I find them very useful. I take great comfort in the fact they might kill me before things get worse. |