Brief Interviews with Hideous Men
(2009)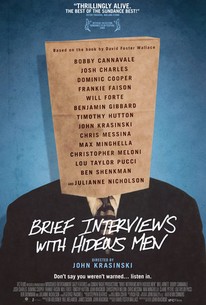 TOMATOMETER
AUDIENCE SCORE
Critic Consensus: Ambitious but uneven, John Krasinski's adaptation of David Foster Wallace's Brief Interviews with Hideous Men tries hard but doesn't match the depth of the book.
Brief Interviews with Hideous Men Photos
Movie Info
Adapted from the book by David Foster Wallace, Brief Interviews with Hideous Men tells the story of Sara Quinn, a graduate student in anthropology who's left feeling lost after her boyfriend breaks up with her and offers little explanation as to why. With her dissertation looming, Sara begins a project to interview men, all sorts of men, trying to unearth the mystery of their bizarre behavior. As her personal life and her academic life continue to mingle, Sara uncovers some strange and disturbing things about the male perspective, but nothing could be quite as strange as what she learns about herself.
Critic Reviews for Brief Interviews with Hideous Men
Audience Reviews for Brief Interviews with Hideous Men
A woman interviews men about their relationships with women and feminism. Throughout most of the first act of Brief Interviews with Hideous Men I had no idea where it was going, and worse, I didn't care. Julianne Nicholson acted like Julianne Nicholson usually does - awkward and lost, drawn to expectation and thwarted by disappointment. And the stories in the first act were banal in the way one might expect - creepy in some cases, but overall, not extraordinary. Then, at the beginning of what should have been the second act (this film's structure is strange because it seemed like they skipped act two), there is a story about a man whose father worked as a bathroom attendant to support his family. John Krasinski's direction allows the older son to confront his younger father about his sacrifices, and the result is touching and compelling. The film takes off from there, the stories getting more and more interesting and the protagonist's goal more and more clear. Krasinski's final monologue proves him to be a strong dramatic actor. However, I did think that the dialogue, much of which must have been copied out of David Foster Wallace's book, seemed like it was written by an actor who wanted the opportunity to read what he read in public, not the result of a conscious dramatic choice. Overall, I liked the last half of this film even though it's a true "actors movie."
Jim Hunter
Super Reviewer
In "Brief Interviews with Hideous Men," Sara(Julianne Nicholson), a graduate student, interviews various men about their sex lives for her thesis, even secretly taping a couple of them(Christopher Meloni & Denis O'Hare) talking about sexually harassing a woman(Lorri Bagley) at an airport. And that's kind of the level of discourse she has to listen to, day in and day out. Added to that, as a woman, she is expected to be in a relationship with a man, hopefully not like her subjects but maybe like the one(Will Arnett) who is locked out of his apartment.(Or to take a more extreme example: In an early episode of "Homicide: Life on the Streets," Detective Kay Howard(Melissa Leo) confides to a therapist about her conflicting feelings about men, after, as a homicide detective, seeing the worst they have to offer.) Newly single, people comment on Sara's wardrobe and her haircut and her professor(Timothy Hutton) suggests she should be more sociable. As intriguing as this might sound and despite incredibly and inventively realizing the cinematic potential in such material, the movie sadly never quite goes beyond the conceptual level. And I think a lot of that has to do with never hearing Sara's questions to hear what she is so curious about, so she sadly remains little more than a cipher. Like "The Hitchhiker's Guide to The Galaxy" points out, sometimes the questions are just as important as the answers.
Brief Interviews with Hideous Men Quotes