Brigadoon
(1954)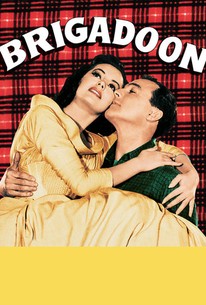 Movie Info
This adaptation of the Broadway musical stars Gene Kelly as an American tourist who stumbles upon an enchanted Scottish village. Kelly falls in love with village lass Cyd Charisse. Charisse's betrothed Hugh Laing, upset by Kelly's intervention, threatens to leave Brigadoon, an act that will spell doom for its residents.
Critic Reviews for Brigadoon
Audience Reviews for Brigadoon
There's a fabulous moment about three quarters of the way through this film when Kelly leaves the otherworldly hamlet of Brigadoon and returns to New York. Though the exact opposite is intended, this was for me the most magical moment of the movie. In my eyes, fifties New York is as much a place of fantasy as the title village and, given my non conservative leanings, one I'd much rather spend my life in. The short glimpse Minnelli gives us of this world is thrilling, like a technicolor "Sweet Smell Of Success", set in the sort of bar Roger O. Thornhill might have frequented. Personally speaking, a place like Brigadoon is my idea of hell, full of religious zealots who scorn anyone who suggests there may be a better life beyond it's walls. I'm on the side of Johnson, a man of logic who just wants to get back to civilisation pronto. Is the promise of a roll in the heather with Charisse really worth being stuck in this narrow minded backwater? Despite being released in 1954, this has more in common with the more bombastic musicals of the sixties, movies which were more concerned with squeezing as many extras into the frame than focusing on a dancer's ability. Kelly is too often mobbed by a pack of irritating bekilted Scotsmen when you wish they'd just clear off and let him do his thing. The movie pines for the intimacy of Minnelli's earlier musicals. "Almost like being in love" aside, the songs aren't particularly memorable and frequently employ a cheesy faux-Scots motif. Ignoring those grumbles, Minnelli really gives life to the movie and it's far easier on the eyes than the ears. His trademark color is really to the fore here, like an explosion in a Skittles factory. The sets look great, and the swirling mists make you wish Minnelli had tried his hand at the horror genre. Vincente Minnelli's "Dracula"? Yes please, perhaps he could terrorise the backward inhabitants of Brigadoon.
The Movie Waffler
Super Reviewer
Gene Kelly in typical fine form, his "Irish whiskey" voice hardly taxed by the Lerner and Loewe score, graceful, energetic, and self-assured as ever. Cyd Charisse looks and moves divinely. Fabulous sets.
hawk ledge
Super Reviewer
½
Ugh, I thought I was going to like it! But something about Cyd Charisse is inherently aloof, that not even Gene Kelly's charm can melt her ice.
Jennifer Xu
Super Reviewer
Brigadoon Quotes
| | |
| --- | --- |
| Andrew Campbell: | You'll never find peace by hating, lad. It only shuts ye off more from the world. And this town is only a cursed place, if ye make it so. To the rest of us, 'tis a blessed place! |
| | |
| --- | --- |
| Tommy Albright: | [miserable] Why do you have to *lose* something, to find out what it *really* means? |