Bright
(2017)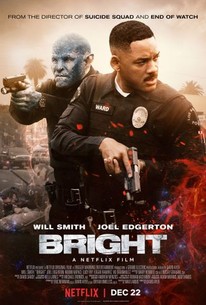 TOMATOMETER
AUDIENCE SCORE
Critic Consensus: Bright tries to blend fantasy, hard-hitting cop drama, and social commentary -- and ends up falling painfully short of the mark on all three fronts.
Movie Info
Set in an alternate present-day where humans, orcs, elves and fairies have been coexisting since the beginning of time, this action-thriller directed by David Ayer (Suicide Squad, End of Watch, writer of Training Day) follows two cops from very different backgrounds. Ward, a human (Will Smith), and Jakoby, an orc (Joel Edgerton), embark on a routine night patrol that will alter the future of their world as they know it. Battling both their own personal differences as well as an onslaught of enemies, they must work together to protect a young female elf and a thought-to-be-forgotten relic, which in the wrong hands could destroy everything.
News & Interviews for Bright
Critic Reviews for Bright
Audience Reviews for Bright
I don't know why I thought "Bright" would be good, maybe because Will Smith was involved or that I absolutely love genre mixing but damn, what a bland script and unremarkable story. The characters are cookie cutter and barely serviceable, supporting cast non-existent, the plot unimaginative but the biggest crime is how it more or less wastes the potential of it's premise of having a modern world filled with fantasy creatures. Just shallow amateur work, truly a missed opportunity to make something great.
Drake Tsui
Super Reviewer
½
A lousy movie made by someone who clearly doesn't understand allegories and who probably loves RPGs but has no idea how to write a script - which in this case is full of awful redundant dialogue, wasted villains and Will Smith so irritating trying to be sassy all the time.
Carlos Magalhães
Super Reviewer
In an era of big-budget studio films, it's nice to see a smaller budget taking on an incredibly interesting concept. Even if the end result is mostly uneven, the fact that Netflix was willing to take a risk with something that definitely wouldn't be for everyone is commendable enough. Personally, Bright isn't a movie that many people will be talking about, but with a few tweaks, could've been the talk of the town. It kind of disappoints me when an interesting concept digs itself a grave by not having a good enough script to carry the likable premise. Here's why I believe Bright deserves your time, but not immediately. Will Smith leads this film, and as always, his charisma definitely helps the feel of the overall film. He and Joel Edgerton play an unlikely duo of police officers patrolling a town in a fantasy world. Humans, Orcs, Fairies, Elves, and numerous other creatures roam the streets in pursuance of a wand. Only those known as brights can wield it and its powers slowly surface throughout the course of the movie. The story itself is as old as time itself, but the world surrounding it is what makes it worthwhile. If for nothing else, Bright is a unique film visually, providing characters that feel well-realized and scenery that feels real. From sweeping shots of the city with dragons flying through the skies to racist dialogue that really makes a statement about our society, there are quite a few aspects to enjoy about this feature film. When it comes to scenery and world-building, a movie can only be so enjoyable though. The premise and repetitive nature of this movie are truly what took it down a notch for me. Movies that repeat the same beats throughout its duration bug me. Bright involves many sequences of gunfights and Daryl (Smith) realizing that his Orc partner, Nick (Edgerton), isn't such a bad guy and not all Orcs are bad. This aspect annoyed me because that's revisited too much throughout the film and you can see each moment coming from a mile away. That being said, their chemistry and development throughout the film are what makes this a joy to experience. I would love to see more of their banter in the future. The climax of this film is very exciting and the action leading up to is even more so at times, but the movie doesn't take enough risks in terms of story. As I mentioned, you'll see the ending coming from a mile away, but you'll grow to love these characters and wish for a sequel to come in the coming years. I would love to see this film become a franchise because there are so many ways of expanding this particular world. I see potential like crazy within Bright. In the end, Bright didn't blow me away, but I was impressed with the world that's set up here, which is mainly due to the unique script, done by Max Landis. The story itself needs work, but I enjoyed seeing his ideas on-screen. The direction is solid and the soundtrack really makes you feel like you're living in this world with these creatures. This is a very believable premise, due to the lower budget of the overall picture. I can't really recommend this movie to average moviegoers because there are some pretty bizarre aspects, but for those who find weird and unique storytelling interesting, then Bright will be the movie for you. It's incredibly predictable, but the world itself is worth watching. Even though Avatar is a better film, I would compare it to that. Great world-building, but exploring a predictable premise.
Bright Quotes
There are no approved quotes yet for this movie.