Bright Young Things
(2004)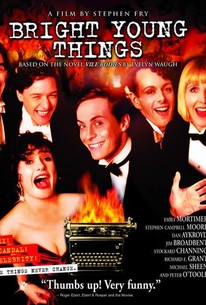 TOMATOMETER
AUDIENCE SCORE
Critic Consensus: Colored with witty performances and a camp sense of satire, Stephen Fry's version of Evelyn Waugh's novel may only be fitfully successful but it does mark a promising debut for the British comic.
Bright Young Things Photos
Movie Info
British writer/actor Stephen Fry makes his feature-film debut with the witty, sophisticated comedy Bright Young Things, adapted from Evelyn Waugh's 1930 novel Vile Bodies. Set in London during the '30s, this stylish period film follows an ensemble cast of well-dressed and highly literate partygoers. Aspiring writer Adam Fenwick-Symes (stage actor Stephen Campbell Moore) loses the manuscript of his first novel when traveling through customs. He then sets out to raise enough money to marry his sweetheart, Nina Blount (Emily Mortimer), the daughter of a colonel (Peter O'Toole). All in the name of love, Adam seeks funding through a constant stream of parties, meetings, and conversations with eccentric acquaintances. Cameo appearances are made by the likes of Dan Aykroyd, Simon Callow, and Stockard Channing. Bright Young Things was shown at the 2003 Toronto Film Festival.
Critic Reviews for Bright Young Things
Audience Reviews for Bright Young Things
Airy-fairy dross that lacks substance.
Ross Collins
Super Reviewer
"Bright, young people. That's what they call you. Well, I guess one of out three isn't bad." Bright Young Things is one of the lightest things I've seen in quite a while. It is not serious at all, nor does it take itself seriously. Its flinty, funny, and irreverent. I was curious to see how Stephen Fry would in the director's chair, and he is really rather good. Plus, there is an incredible lineup; with James McAvoy, David Tennant, Jim Broadbent, Michael Sheen, and so many others. I really would never want to watch this again, but it really is great fun to watch once.
I went into this knowing that it would be difficult to capture the brilliance of "Vile Bodies", which is one of my favorite novels. I have to admit I was pleasantly surprised (and thoroughly amused) at how well Mr. Fry captured the feel of the book. The set designs and costumes are wonderful, the cast is amazing and the writing (al a Waugh) is brilliant and clever. I was even impressed by Dan Aykroyd who is not normally a "draw" for me.
Bright Young Things Quotes
There are no approved quotes yet for this movie.