Brighton Rock
(2011)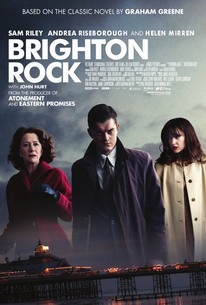 TOMATOMETER
AUDIENCE SCORE
Critic Consensus: Brighton Rock is a lean noir boasting an appealing trio of stars, but its old-fashioned presentation only reinforces how little it distinguishes itself from the superior original.
Movie Info
Screenwriter Rowan Joffe's debut feature Brighton Rock embraces the classic elements of film noir and the British gangster film to tell the story of Pinkie, a desperate youth who is hell bent on clawing his way up through the ranks of organized crime. When a young and very innocent waitress, Rose, stumbles on evidence linking him to a revenge killing, he sets out to seduce her to secure her silence. The film stars up-and-coming British actors Sam Riley and Andrea Riseborough as the young couple. Veterans Helen Mirren and John Hurt co-star as two friends who set out to save Rose from Pinkie's deviant designs. Brighton Rock is based on the iconic 1939 Graham Greene novel of innocence and evil but the action has been updated to 1964 Britain, the year the Mods and the Rockers were rioting across the South Coast. The 60s were also the era of the great British gangster, the kind of working class hero, the frightened and ambitious Pinkie longs to be. -- (C) Offical Site
News & Interviews for Brighton Rock
Critic Reviews for Brighton Rock
Audience Reviews for Brighton Rock
Upon the murder of his gangland boss, a young hoodlum kills the perpetrator in retribution but he must find a way to silence a potential witness in the form of a smitten waitress. The idea of transferring Graham Greene's classic novel to the 1960s certainly has its appeal and the scenes involving the rioting mods and rockers are really nicely done by first time director Joffe. He also has a very good eye for an image, which combined with some attractive cinematography, clearly echoing that of the most celebrated Greene adaptation The Third Man, makes for a very good looking film. Helen Mirren also proves she can still turn on the sex appeal as the ageing cougar hell bent on preventing Rose from making the same mistakes of her own youth and John Hurt can always be counted on for some characterful support. Joffe's inexperience behind the camera does show however, in that some of the visual metaphors are rather heavy handed, particularly for the rather unsatisfying concluding scene. But by far the biggest problem for me was the protagonist; Pinkie is a thoroughly unpleasant character on every level and Sam Riley's sullen performance makes for a "hero" it's impossible to like or have any sympathy for whatsoever. For this reason it's not perfect, but Brighton Rock certainly has its moments and shows some promise for Joffe's future career.
Cast: Sam Riley, Andrea Riseborough, Andy Serkis, John Hurt, Helen Mirren, Philip Davis, Nonso Anozie, Sean Harris, Steven Robertson, Maurice Roëves Director: Rowan Joffe Summary: In hopes of silencing a waitress (Andrea Riseborough) who saw him kill another criminal, a young thug (Sam Riley) decides to romance her and suss out how much she knows. But at what point does his premeditated plot blossom into true passion? And are either party's motives 100 percent pure? John Hurt and Helen Mirren co-star in writer-director Rowan Joffe's film adaptation of Graham Greene's novel. My Thoughts: "I've never read the novel nor have I seen the previous film, so I have nothing to compare it to. I feel those of us who haven't read the book will be at a disadvantage, for this film was made for those who have read it. There are some things that happen that are not explained which sometimes doesn't bother me, but in this case it does cause you feel lost. The screen writer and director should have been more clear with some of the scenes. Like for instance, Pinkie. Does he or doesn't he love Rose? But then maybe were suppose to come to our own conclusion on the matter. All I know is this film makes me want to read the book just so I can fully understand the film cause it is an interesting one besides the plot holes. Some of the character's are under-developed and leave you guessing at how they all fit. Helen Mirren is Rose's boss, but then there is incident where you are to believe she may be Rose's mother, but it's never confirmed. Things like that can drive a movie lover mad. Moving on...The acting is pretty great. Helen Mirren is fantastic. I try to see any and every film she attaches herself to. I think she's a wonderful actor. The movie itself is a dark tale of love, murder, and revenge. See it if you've read the book or like being lost in a film."
♥˩ƳИИ ƜѲѲƉƧ♥
Super Reviewer
½
Based on a Graham Green novel, Brighton Rock was previously made into a British adaptation back in 1947. But where the novel and original were both set in 1939, this modern re-telling has been updated to 1964. The re-imagining adds to the narrative immensely. There's a certain stylishness to 1960s era England amidst the clashing Mods and Rockers that's very appealing. These are hoodlums, but they wear natty suits and ride Italian scooters. It all kind of suggests the British New Wave, a neo-noir thriller if you will. Brighton Rock is highlighted by an expressionistic style that uses shadows, rain and religious iconography to set the mood. These stylish visual flourishes are further complemented by a musical score by award-winning composer Martin Phipps. At once ominous and beautiful, it's reminiscent of the sumptuous music of a classic 1940s film noir. It's decidedly old fashioned and I enjoyed how the vocal cues complemented the action on screen. This is the feature debut for screenwriter Rowan Joffé who just happens to be the son of director Roland Joffé (The Killing Fields, The Mission). Talk about pressure. Brighton Rock is not the hard-hitting political story his father is know for, but he does have a way with setting a mood. The evocative music and poetic visuals help dress up a slight story that is still is an excellent character study. There is much to enjoy in this minor, but entertaining period drama.
Mark Hobin
Super Reviewer
Brighton Rock Quotes
| | |
| --- | --- |
| Rose: | Pinky! Pinky ... |
| Rose: | Pinkie! |
| | |
| --- | --- |
| Pinkie Brown: | You're good, and I'm bad. Were made for each other. |
| | |
| --- | --- |
| Pinkie Brown: | What's your name? |
| Rose: | [clears throat] Rose. |
| Phil Corkery: | Your like me, old fashioned. You're the kind of girl I like. |