Bring It On
(2000)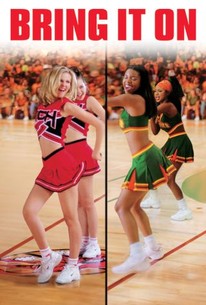 TOMATOMETER
AUDIENCE SCORE
Critic Consensus: Despite the formulaic, fluffy storyline, this movie is surprisingly fun to watch, mostly due to its high energy and how it humorously spoofs cheerleading instead of taking itself too seriously.
Movie Info
The hard work, dedication, and personal politics behind "rah rah rah!" and "sis boom bah!" go under the microscope in this engaging teen comedy. Torrance Shipman (Kirsten Dunst) discovers that being captain of her San Diego high school's six-time championship-winning cheerleading squad is more complicated than she had imagined. Torrance's parents want her to spend more time on her homework, her boyfriend wants her to spend more time with him, and she learns that the squad's former captain stole some of their best routines from other teams -- and that Isis (Gabrielle Union), captain of a top squad at a crosstown, inner-city high school, plans to fight back this year. To make things worse, when one of the cheerleaders is injured, Torrance is forced to replace her with Missy (Eliza Dushku), a cynical new kid who is involved only because the school doesn't offer gymnastics. In the midst of this chaos, with the national championship around the corner, Torrance couldn't have picked a worse time to fall in love with Cliff (Jesse Bradford), a classmate who cares a lot more about punk rock than school spirit. Dunst trained with a cheerleading squad for her role, though a double performed the more complicated stunts. ~ Mark Deming, Rovi
News & Interviews for Bring It On
Critic Reviews for Bring It On
Audience Reviews for Bring It On
F. Scott Fitzgerald, author of The Great Gatsby, once said: "The test of a first-rate intelligence is the ability to hold two opposed ideas in mind at the same time and still retain the ability to function." His point was that coming down on one side or another in a given argument is relatively easy, while it takes an active and detailed engagement with the topic in hand to understand the implications of each opinion. It's difficult to know exactly what Fitzgerald would have made of Bring It On. The chances are that he would have hated it, given his bad experience of working in Hollywood in the 1930s, turning out scripts for Joseph L. Mankiewicz. But his maxim does provide us with a useful means of assessment, since Bring It On leaves us completely in two minds. Peyton Reed's debut effort is both a bitingly cheerful snipe at cheerleading and a confused missed opportunity. Whichever side you gravitate towards, it is definitely worthy of its cult status. When I reviewed Stick It, I spoke at great lengths about the difficulties of writing believable female characters, particulary when it comes to sports films. One could write whole theses on the notion that cinema as a medium could be considered inherently masculine, but in any case the sports genre is dominated by stories of men rather than of women. Hence any sports film which centres around women, or addresses the standards to which they must confirm, has to overcome both the standard baggage that comes with writing female characters and the extra baggage of the genre's reputation and target market. Because Bring It On is positioning itself as a satire, it must do two things to succeed. Firstly, it must get to grips with its subject matter, exposing the absurdities and hypocrisies of cheerleading in a humourous and relatable way. And secondly, it must achieve this while giving us characters which feel like real people, either by having them expose cheerleading from the outside, or by doing a Spinal Tap and making us laugh as their delusional levels of self-belief. In both respects, Bring It On is a partial success, albeit in a deeply frustrating way. In essence, it does a great job of showing us how shallow and pointless cheerleading is by making us actively hate pretty much all the characters. The result is that we are completely on board with its criticisms of the sport, but feel like an audience at a circus laughing at clowns rather than feeling for the people under the make-up. This would be fine, up to a point, but as the film moves on its plot movements become more predictable and it attempts to turn its whole premise on its head. Having got across a clear message about the stupidity of cheerleading, through characters which take it so seriously that it hurts, it then mutates into a feel-good underdog comedy in which we are meant to root for Kirsten Dunst and her term of perfectionist brats. The tone of the dialogue doesn't change much, but the shift is not wholly convincing and ends up softening a lot of the satirical blow. If there is one word to describe the entire tone of Bring It On, it is bitchy. The film is written by Jessica Bendinger, who would later demonstrate on Stick It that she could write a range of interesting, very different female characters (and direct them very nicely too). Here, however, it quickly becomes difficult to distinguish between the main protagonists. We can identify Missy because she sees through the group's vacuity, and we remember Kirsten Dunst's character because of her subsequent success. Everyone else, on the other hand, is much of a catty muchness. As a result, Bring It On can often come across as grating and stereotypical. We're all familiar with the many film and TV cliches surrounding cheerleaders, whether they are spiteful and spoilt (Libby from Sabrina the Teenage Witch) or so oversexualised that it borders on creepy (subverted in Jennifer's Body). But Bring It On doesn't make as much effort as it could to challenge any of the personality traits associated with the sport. It just assumes that we already find cheerleaders annoying, turns the characters briefly up to 11 and leaves it at that. It is entirely possible to make a compelling and interesting film which is populated with characters who are unlikeable or even reprehensible. The classic Ealing comedies, like The Ladykillers and Kind Hearts and Coronets, did it all the time, giving us protagonists who were often jaded, corrupt or just plain malevolent and somehow making us bond with them. The key, as is so often the case, is character development: we have to learn something about the characters to make them seem more human and less one-dimensionally hateful, a point that I raised in my negative review of Sightseers. Bring It On does fare better in this regard than Ben Wheatley's deeply misjudged dark comedy, but it's still stymied by its predictable story arc. When it's in its early stages, documenting the early failures of the group and all the girls' misplaced anxieties, it feels like a freeform, independently-spirited comedy drama which in the right hands could have been great. But as the more familiar plot elements encroach, the character development is put on hold in favour of montages, physical set-pieces and a strange desire to cheer us up. Had Reed and Bendinger stuck to their guns and given us a darker, more twisted look at cheerleading, this film could and should have been a whole lot better. Dunst's comic timing and perky demeanour could have been used to expose some of the physical pressures affecting cheerleaders, whether from within the squads, fromthe teams that they support, or from outside expectations. It wouldn't have needed to be Heathers with pompoms, but there are opportunities all throughout the running time for it to dig a little deeper - opportunities that it very rarely takes. Part of the reason why it doesn't take these lies in Reed's sensibility. Prior to this, Reed mainly worked in TV, directing episodes of the animated Back to the Future series as well as remakes of Disney's The Computer Wore Tennis Shoes and The Love Bug. Despite the presence of The Evil Dead star Bruce Campbell in the latter, none of these efforts are becoming of a would-be cult director. They're largely safe and harmless affairs, which often pull back from doing anything controversial or radical. What makes Bring It On worthy of cult status is not how cutting-edge or adventurous it is. Instead it's a misshapen oddity, a film which can never quite decide what it wants to be and why. Under normal circumstances, this would render it a failure along the lines of Oliver & Company, to continue the Disney theme. But while it's trying hard to make up its mind, it plays out its conflicted self in a memorable and enjoyable manner on screen, a facet which ultimately redeems it. If we approach Bring It On looking only for Spinal Tap levels of insight and intelligence, we'll quickly grow disappointed and lose interest. If, on the other hand, we come looking for entertainment, while being open to the idea of maybe learning something, then the film becomes much more agreeable all-round. The substance is still there in muted form, and the film is every bit as conflicted, but like Highlander its flaws are overriden by one's desire to enjoy the action, even if just to admire the prowess of the performers. If nothing else, the film is another feather in the cap of Kirsten Dunst as an actress. Having cut her teeth as a child actress, in the likes of Jumanji and Kiki's Delivery Service, this was one of the first roles which began to establish her as an adult talent. This is probably the part that contributed most to her being cast in Spider-Man: Torrance Shipman has a perky yet headstrong quality to her which draws some comparisons with Mary-Jane Watson. Dunst carries the action with ease, and as with Get Over It the following year, her presence causes everyone else to lift their game. Bring It On is a heavily flawed cult oddity which should be embraced as entertainment in spite of its satirical shortcomings. Fans of satire will find good cause to complain that it doesn't go far enough in either its characterisations or its deconstruction of cheerleading, but its flaws makes it a more refreshing perspective on the sport than many other teen-aimed efforts of the day. It's nowhere near as good as Stick It, but there are many worst sports films that you could be forced to endure.
Daniel Mumby
Super Reviewer
Saw this sometime about 10 years ago, and all I remember is cheerleaders cheering. It was not a memorable film, and I did not enjoy it at the time.
A decent little comedy and one of the early dance films which are very popular now. Thankfully the main lead characters rise this slightly above your average teen comedy.
Bring It On Quotes
| | |
| --- | --- |
| Big Red: | I'm sexy, I'm cute, / I'm popular to boot. |
| Torrance Shipman: | I'm bitchin', great hair, / The boys all love to stare, / I'm wanted, I'm hot, / I'm everything you're not, / I'm pretty, I'm cool, / I dominate this school, / Who am I? Just guess, / Guys wanna touch my chest, / I'm rockin', I smile, / And many think I'm vile, / I'm flyin', I jump, / You can look but don't you hump, / Whoo / I'm major, I roar, / I swear I'm not a whore, / We cheer and we lead, / We act like we're on speed, / Hate us 'cause we're beautiful, / Well we don't like you either, / We're cheerleaders, / We are cheerleaders. /Roll call... |
| Big Red: | Call me Big Red. |
| Whitney Dow: | I'm W-W-W-W-Whitney. |
| Courtney Egbert: | C-C-C-C-Courtney. [Courtney makes cat snarl] |
| Darcy: | Dude, it's Darcy. |
| Kasey: | Just call me Kasey! |
| Big Red: | I'm... still Big Red, / I sizzle, I scorch, / But now I pass the torch, / The ballots are in, / And one girl has to win, / She's perky, she's fun, / And now she's number one, / K-K-Kick it Torrance, / T-T-T-Torrance! |
| Torrance Shipman: | I'm strong and I'm loud, / I'm gonna make you proud, / I'm T-T-T-Torrance, / Your captain Torrance. |
| Torrance Shipman: | Let's go Toros. /We are the Toros, / The Mighty Mighty Toros, / We're so terrific, / We must be Toros. |