Bringing Out the Dead
(1999)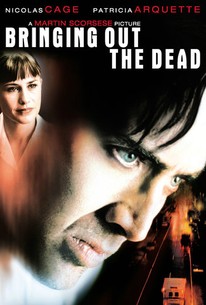 Bringing Out the Dead Photos
Movie Info
Nicolas Cage plays EMS paramedic Frank Pierce. It is the early 1990's and New York has not yet undergone its renaissance of recent years. Surrounded by the injured and the dying, Frank is dwelling in an urban night-world, crumbling under the accumulated weight of too many years of saving and losing lives. The film follows Frank over the course of fifty-six hours in his life - two days and three nights on the job - as he reaches the very brink of spiritual collapse and redemption.
News & Interviews for Bringing Out the Dead
Critic Reviews for Bringing Out the Dead
Audience Reviews for Bringing Out the Dead
½
Frank Pierce: I'd always had nightmares, but now the ghosts didn't wait for me to sleep.  Bringing Out the Dead is a very interesting film that is another character study from Martin Scorsese, much like Raging Bull or Taxi Driver. Now, it isn't as good as either of those, but it's still Scorsese and all the signs of his presence are there. Much like Taxi Driver, he brings the city of New York into the story as another character, almost. The city is filthy, the hospitals jam packed. Many people can't even get treated because there's just too much for the doctors to handle.  Frank is an ambulance driver in New York City. He hasn't been getting much sleep lately and we see three nights of him on the job. He's being haunted by those who have died on him, especially an 18 year old girl named Rose that he lost 6 months earlier. He's cracking, he's losing his mind, and he's an alcoholic. The first night we see him take in an older man who just had a heart attack. Frank soon forms a sort of bond with the mans daughter.  Nicholas Cage is perfect in the role of Frank Pierce. This is the type of role that he was born to play and that he thrives in, as it plays right to his strengths. It allows him to be eccentric, but also lazy. It's much like his performance in Leaving Las Vegas. The rest of the cast is well picked too. John Goodman, Ving Rhames, Tom Sizemore, and even Patricia Arquette(who I am not a fan of) are great in their respected roles. In the end, this is always going to be a forgotten Scorsese film. It doesn't quite live up to his standard, but it's still an extremely well made and tense film. So what it's labeled "lesser-Scorsese." Whenever Scorsese is in the directors chair, you can be certain it's going to be a film worth watching, and Bringing Out the Dead is no exception. Don't expect another Taxi Driver or Raging Bull. Just expect some more solid filmmaking from one of the greats.
Melvin White
Super Reviewer
Second viewing, ten years after the first, and believe it or not I find this movie worse than I did the first time - and, sadly, I actually like the premise: a paramedic who's starting to feel the ghosts of his calling catch up to him and who's breaking down as a result. I see why Cage seemed like the right choice - he's played the worn-down type since Leaving Las Vegas - but he's so unbearably flat that I can't cheer for him. He's a passenger in his own life, and few to none of the problems in the film get resolved, which can work sometimes, but here it's just clunky. There's a half hour in the middle that's almost compelling, but the hump at the beginning, the mad veering off in all directions and the abrupt ending overwhelm the good stuff. The best part for me was John Goodman, but he quits the job about 30 minutes in and we never see him again. I will credit Scorsese for the gritty night-time style; I see how he was trying to go back to Taxi Driver. But layering over this film was rambunctious Rolling Stones and Clash tracks didn't do the action any favours, it just jarred the viewer, over and over, with little to no gain from it. Everyone lays an egg at some point in their career, I guess. This one's Scorsese's. It comes off like a half-baked episode of ER.
Daniel Perry
Super Reviewer
½
A modern Taxi Driver. Bringing Out the Dead it's more a great masterpiece by Scorsese, which, unfortunately, doesn't had the attention that deserve. Nicolas Cage also present an outstanding acting on the screen.
Lucas Martins
Super Reviewer
Bringing Out the Dead Quotes
| | |
| --- | --- |
| Larry: | [to Frank] What you gettin'? |
| Frank Pierce: | I'm not hungry. |
| Larry: | Oh yeah, you don't eat food. |
| Frank Pierce: | I eat, I just haven't had coffee yet. |
| Larry: | Coffee and whiskey, lucky you ain't dead with that diet. |
| | |
| --- | --- |
| Cy Coates: | [to Frank] Relax, you're in the oasis now. |
| | |
| --- | --- |
| Frank Pierce: | You cannot be near the newly dead without feeling it. |
| | |
| --- | --- |
| Cy Coates: | Tell me somethin', Frank--does killing your clients make good business sense to you? |