Bringing Up Baby
(1938)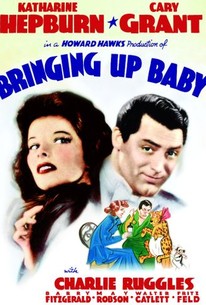 TOMATOMETER
AUDIENCE SCORE
Critic Consensus: With Katharine Hepburn and Cary Grant at their effervescent best, Bringing Up Baby is a seamlessly assembled comedy with enduring appeal.
Movie Info
Katharine Hepburn and Cary Grant star in this inspired comedy about a madcap heiress with a pet leopard who meets an absent-minded paleontologist and unwittingly makes a fiasco of both their lives. David Huxley (Grant) is the stuffy paleontologist who needs to finish an exhibit on dinosaurs and thus land a $1 million grant for his museum. At a golf outing with his potential benefactors, Huxley is spotted by Susan Vance (Hepburn) who decides that she must have the reserved scientist at all costs. She uses her pet leopard, Baby, to trick him into driving to her Connecticut home, where a dog wanders into Huxley's room and steals the vital last bone that he needs to complete his project. The real trouble begins when another leopard escapes from the local zoo and Baby is mistaken for it, leading Huxley and Susan into a series of harebrained and increasingly more insane schemes to save the cat from the authorities. Inevitably, the two end up in the local jail, where things get even more out of hand: Susan pretends to be the gun moll to David's diabolical, supposedly wanted criminal. Naturally, the mismatched pair falls in love through all the lunacy. Director Howard Hawks delivers a funny, fast-paced, and offbeat story, enlivened by animated performances from the two leads, in what has become a definitive screwball comedy. ~ Don Kaye, Rovi
Critic Reviews for Bringing Up Baby
Audience Reviews for Bringing Up Baby
Katharine Hepburn's performance alone is dynamic in this comedic classic. Bringing Up Baby is comedy gold with brilliance in its ensemble. The laughter is timeless, the dialogue is crisp and, once again, Hepburn and Grant formulate a charming duo. 4/5
Eugene Bernabe
Super Reviewer
It is ironic that this enjoyable film flopped when it was still original and now is highly regarded as a masterpiece when it is obviously outdated and full of silly gags for today's standards - and despite her great chemistry with Grant, Hepburn is more irritating than funny.
Carlos Magalhães
Super Reviewer
Cary Grant (in a pair of glasses) plays a milquetoast nerdy-nerd scientist who's been assembling pieces of a dinosaur skeleton for years. While schmoozing a rich lady's lawyer on the golf course, he runs into Katharine Hepburn, a scatter-brained (yet attractive) lunatic who brings trouble with her wherever she goes, especially to the scientist. For good measure, they throw a leopard named baby (whose favorite song is "I Can't Give You Anything But Love, Baby") into the mix and you have what might be director Howard Hawks' screwiest screwball comedy, lighter-than-air and yet heartily amusing. If there can be any criticism (and really, it's hard to take too critical a glance at something so lightweight), it may be with Hepburn and her portrayal of Susan Vance. The character is willfully ignorant, is mainly used as a means of advancing the comedic situations. But in working so hard to achieve this ignorant arrogance, the film loses a little bit of it's momentum (and good will). It's only once the film really gets rolling that Hepburn's comedic inadequacies can be overlooked (in fact, the film is almost a tale of two performances from Hepburn, the overly affected and forced first half of the performance, and the more flowing feel the performance achieves by the end). It's an unusual film to say the least.
Devon Bott
Super Reviewer
Bringing Up Baby Quotes
| | |
| --- | --- |
| David Huxley: | Now it isn't that I don't like you, Susan, because, after all, in moments of quiet, I'm strangely drawn toward you, but - well, there haven't been any quiet moments. |
| | |
| --- | --- |
| Susan Vance: | There *is* a leopard on your roof and it's my leopard and I have to get it and to get it I have to sing. |
| | |
| --- | --- |
| Aunt Elizabeth: | But why are you wearing 'these' clothes? |
| David Huxley: | Because I just went gay all of a sudden! |
| Aunt Elizabeth: | Now see here young man, stop this nonsense. What are you doing? |
| David Huxley: | [exasperated and wearing Susan's negligee] I'm standing in the middle of 42nd Street waiting for a bus! |
| | |
| --- | --- |
| David Huxley: | But Susan, you can't climb in a man's bedroom window! |
| Susan Vance: | I know, it's on the second floor! |