Bringing Up Bobby
(2012)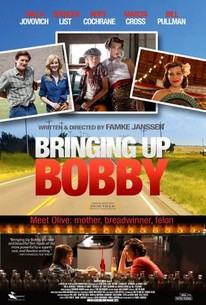 Movie Info
In an effort to escape her murky past and build a better future, Olive (Milla Jovovich), a nomadic European con-artist, and her 10-year-old American-born son, Bobby(Spencer List), find themselves living in Oklahoma. As her top priority, Olive seeks to give Bobby the things she never had: she enrolls him in school, makes him do his homework and tries her hardest to be a good mother, and with the help of an old friend from Oklahoma, Walt (Rory Cochrane), Olive "provides" for Bobby in the only way she knows how. But despite of her efforts (or perhaps because of them) Bobby displays troubling behavior both at his school and in their conservative neighborhood. Things take a turn for the worse after Bobby's unfortunate "run-in" with the local and wealthy businessman Kent (Bill Pullman), and Olive's criminal past finally catches up with her, forcing her to make the toughest judgment of all.
News & Interviews for Bringing Up Bobby
Critic Reviews for Bringing Up Bobby
Audience Reviews for Bringing Up Bobby
Many questions arise from watching "Bringing Up Bobby". First of which, why did actress Famke Janssen decide to write, direct, and produce this film as her first directorial venture? A somewhat successful actress in her own right, you would assume either this was a passion project of hers or something she felt very strongly about. But the premise of the film sees a European ex-con artist, trying to raise her son while on the run in the United States. Stated on Wikipedia, the idea was inspired by her own perceptions of the United States, after moving here from the Netherlands in 1984, but why it is handled in such a haphazard and non-cohesive way is still up for question. Another question arises of why Milla Jovovich, another somewhat successful actress, would sign on to star as the lead in this film? Having been born in the Soviet Union, you would also imagine she could pull off a Russian accent, but unfortunately, she cannot, as it comes off muddled and over exaggerated. The biggest flaw of the film is the lack of empathy created for any of the paper-thin characters, as they are all unlikeable in one way or another. With no real direction to speak of, you have to wonder where this came from and who it was meant for. Why some actors decide to become directors is beyond me, but with a first showing like this, there is no where to go but up.
Christopher Haskell
Super Reviewer
In "Bringing Up Bobby," Olive(Milla Jovovich) has just stolen a car but will have to wait to a few days for payment from her friend and fence, Walt(Rory Cochrane). In the meantime, she meets with every religious person in Oklahoma while her son Bobby(Spencer List) struggles in school. So, she makes a deal with him to raise his grades, just before tragedy strikes... With the exception of Bill Pullman's easygoing charm as its sole saving grace, "Bringing Up Bobby" is a slapdash and amateurish movie. Otherwise, the performances mostly consist of cartoon accents which is a shame because Milla Jovovich proved she can act when she held her own previously in "Stone" with Edward Norton and Robert De Niro. With "Bringing up Bobby," the contrived story has little going beneath its rough surface in taking so much time in exploring how bad a mother Olive is when in fact it could have gotten quite a bit darker in exploring her questionable motivations.
½
"Bringing Up Bobby was really bad. I just could not get into it. I like Bill Pullman and he gives a solid performance. But man Milla Jovovich was so bad in this. I was surprised at how annoyed I was with her performance and her character. Rory Cochrane was bad as well as was his character. The little boy gave a good performance though. The story is about a mother who came to America looking for a better future for her and for her son. But instead of a better future she has turned to a life of conning and stealing. This eventually lands her in Prison and her son off and adopted by a man who accidently hit her son with his car. That right there says enough about this film. Not seeing this again obviously."
♥˩ƳИИ ƜѲѲƉƧ♥
Super Reviewer
Bringing Up Bobby Quotes
There are no approved quotes yet for this movie.