Broadway Bill
(1934)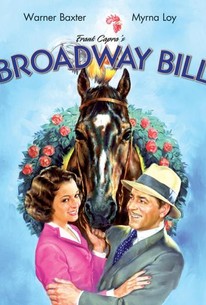 Movie Info
Just after completing It Happened One Night, director Frank Capra churned out a bread-and-butter picture titled Broadway Bill. Warner Baxter plays the carefree scion of a wealthy, highly-respected family. Baxter's cold but socially correct wife Helen Vinson forces her husband into the family business, but Baxter would rather spend his time at the racetrack. He buys a nag named Broadway Bill and tries to build the horse into a winner--if he doesn't bankrupt himself first. Only Baxter's sister-in-law Myrna Loy and black stable hand Clarence Muse have faith in Broadway Bill. The horse wins a crucial race, but dies suddenly at the finish line. Baxter is comforted and given encouragement by Loy, who is now his sweetheart, Vinson having long since washed her hands of her "irresponsible" husband. Broadway Bill was remade by Capra as Riding High (1950), utilizing generous portions of stock footage and even going so far as to rehire several of the original film's cast members (Douglass Dumbrille, Clarence Muse, Charles Lane, Raymond Walburn, Margaret Hamilton, Frankie Darro) to recreate their roles and match up their scenes from the earlier production. Long withheld from distribution due to Riding High, Broadway Bill was made available for videocassette in the mid-1980s. Keep an eye out for Lucille Ball as a blonde telephone operator and Alan Hale Sr. as a racetrack announcer.
Critic Reviews for Broadway Bill
Audience Reviews for Broadway Bill
½
Loy is cute in this movie. Although the story is predictable and I really don't like horse movies, this movie was entertaining, well acted, and funny at times.
Broadway Bill Quotes
There are no approved quotes yet for this movie.