Broadway Danny Rose
(1984)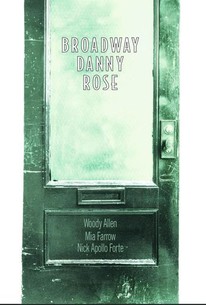 TOMATOMETER
AUDIENCE SCORE
Critic Consensus: Woody Allen's hard-working, uphill-climbing Broadway talent agent is rendered memorably with equal parts absurdity and affection.
Broadway Danny Rose Photos
Movie Info
A smaller, amusing comedy from writer/director Woody Allen, Broadway Danny Rose begins with a bunch of show business vets sitting around a table at New York's Carnegie Deli and reminiscing about the legendary titular character, a loser of an agent who would represent anyone, including blind xylophonists, piano-playing birds, and has-been crooners with drinking problems. Allen plays Rose as a befuddled, warm-hearted schlub who finally has a shot at getting somewhere when he signs washed-up lounge singer Lou Canova (Nick Apollo Forte) and nearly brings his career back to life. Danny gets him a date at the Waldorf, where Milton Berle is in the audience, looking for guests for his TV special. Canova has a complicated love life, juggling both a wife and a girlfriend. so he enlists Danny to take the girlfriend, Tina Vitale (Mia Farrow), to the concert. But Canova and Tina have a fight, she goes back to her Mafioso boyfriend, and Danny winds up getting chased halfway around New York and New Jersey by the Mob. And of course, once Canova gets his big break, he dumps Danny for another agent. Allen, Forte, and especially Farrow all do strong work with characters that could have easily become stereotypes, and the film has a lighter, warmer touch than the Allen films that preceded it (Stardust Memories and Zelig).
Critic Reviews for Broadway Danny Rose
Audience Reviews for Broadway Danny Rose
½
Again with the show business and that big dirty New York seen through nostalgic lenses (it sells, okay, so if it ain't broke don't fix it, oy vey), and this time with Allen as the worst in the business, the talent manager, and he's really the worst in the business, but played with a heart of gold already. It's got its moments, but hey, they're warm moments. Whaddaya want for nothing? Its a keeper, so keep it already.
Kevin M. Williams
Super Reviewer
Danny Rose: I don't wanna badmouth the kid, but he's a horrible, dishonest, immoral louse. And I say that with all due respect.  Broadway Danny Rose is a small, brisk, sometimes funny, and most of the time amusing little comedy from Woody Allen. Allen has done much, much better work, but he's also done much, much worse work. It's a film along the lines of A Midsummer Night's Sex Comedy, where the best thing you can really say about it is that it is amusing. It's doesn't have the same appeal as some of his great works like Hannah and Her Sisters or Manhattan, yet because it is Woody Allen; it is still likable in a way that only a Woody Allen film can be. We hear a story told by a comedian to a bunch of other comedians about a man named Danny Rose. Danny is a theatrical agent and most of his clients happen to be talentless hacks. One of his clients, Lou Canova, was big time in the 50's, but is now a has been. When people start getting back into the nostalgia music that Lou sings, he has one last chance to make it big again. In order for him to be able to perform well, he wants his girlfriend to see him at the big show. The only problem is that Lou's wife will also be there. So he gets Danny to escort her and act like she's his date. Things go bad when an ex-boyfriend gangster mistakes Danny for her new lover. What makes this movie go down so much better is Mia Farrow's presence. She's a beautiful girl and a really good actress. She displays a different presence in this film, then were use to seeing from her; especially in Woody Allen films. Allen plays another Allen character, and his jokes remain based on an intellectual level. There's a great scene with some helium though, that displays some dumb humor, and was actually the funny part of the whole film. Broadway Danny Rose is an average film from Allen. If you like him, this is worth a look as are all of his films. If you don't like him, this won't be the film that will change your mind. It's definitely lesser Allen, but still enjoyable Allen. When it comes to his long, long filmography; this one probably falls near the halfway point when it comes to how good it is. Just don't expect a movie worthy of his greatest and you'll be alright with Broadway Danny.
Melvin White
Super Reviewer
½
Let me just say this, my expectations were not exceeded.
Randy Tippy
Super Reviewer
Broadway Danny Rose Quotes
| | |
| --- | --- |
| Danny Rose: | [asks about her ex-husband] What'd you do, you divorced him, or got a separation, or what? |
| Tina Vitale: | Nah, some guy shot him in the eyes. |
| Danny Rose: | Really? He's blind? |
| Tina Vitale: | Dead. |