Brokedown Palace
(1999)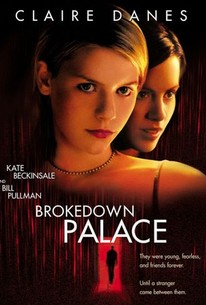 Movie Info
Two carefree Americans embark on an overseas vacation that soon becomes a nightmare in this powerful drama. Alice (Claire Danes) is a headstrong teenager who wants to do something different to celebrate her high school graduation, so she persuades her more reserved best friend Darlene (Kate Beckinsale) to join her on a trip to Bangkok. While enjoying sun and scenery, Alice and Darlene meet Nick Parks (Daniel Lapaine), a charming Australian who shows them the sights and sweet-talks Darlene into a romantic assignation, which is something of a surprise to her bolder friend Alice. Nick then suggests that they join him on a side trip to Hong Kong, but they soon discover that Nick's interest has been neither friendly nor romantic: he has hidden a large amount of heroin in their luggage and is using them as drug runners without their knowledge. When the heroin is found by customs officials, Alice and Darlene are quickly tried and sentenced to 33 years in a hideous prison known to inmates as Broke-Down Palace. Their plight comes to the attention of "Yankee Hank" (Bill Pullman), a renegade American attorney in Asia, but while Hank struggles with the court system to get Alice and Darlene released, they must deal with the living hell of life behind bars, and their own doubts about each other. Brokedown Palace was directed by Jonathan Kaplan, who previously dealt with judicial injustice in The Accused and teens in difficult circumstances in Over the Edge. ~ Mark Deming, Rovi
Critic Reviews for Brokedown Palace
Audience Reviews for Brokedown Palace
Brokedown Palace is a powerful drama film about two friends that are accused of drug smuggling and are sentenced to spend 33 years in prison. The prison they are sent to is nicknamed "broke down palace", and it's a prison that has an awful reputation. Brokedown Palace has a very good cast of actors, and I have to say, Kate Beckinsale really shines here, considering her body of work. This one of her best films, and I also thought that Claire Danes was terrific as well. Some parts of the film are uneven, but for the most part this is a very good drama film that is held together by the performances of its two leads. This is good film, one that has a good story. If you ever get the chance of watching Brokedown Palace, you should give it a shot. I normally don't care much for Beckinsale, although I liked in her in some of the films I've seen her in, this is a good little film. The film is nothing that will make you write home about, but for what its, it's a well made drama film that has an engaging story. Where the film tends to lack is when the two friends start questioning each other, once they're in prison. I felt that it was a bit too dramatic, but it was still good nonetheless. They could've just toned it down slightly, I think. A good film that has a few imperfections, but it has an engaging and interesting story with above decent acting. An interesting drama film worth seeing at least once.
½
This women prison drama is powerful as the acting is excellent and the photography is stunning.
Dean McKenna
Super Reviewer
½
This is a pretty good drama and the casting was great. I like that it lets you decide for yourself who did what at the end. It was a complete story.
Jason Spencer
Super Reviewer
Brokedown Palace Quotes
There are no approved quotes yet for this movie.