Broken Tower
(2012)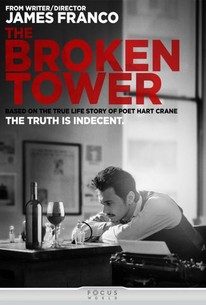 Movie Info
From Focus World and director/star James Franco, a film about visionary poet Hart Crane, who lived a life of beauty, passion, and tragedy. Hart Crane was one of the most important voices in American poetry - but lived a life with as much turmoil as passion. From his early life to his journeys from New York, Cuba, and Paris, Crane's story and that of the loves that defined him is told with imaginative empathy, and with a no holds barred performance - in a film as introspective, rebellious, heartbreaking, and honest as Crane himself. -- (C) Focus World
News & Interviews for Broken Tower
Critic Reviews for Broken Tower
Audience Reviews for Broken Tower
This look at the brief life of troubled American poet Hart Crane is a real one-man show as its star James Franco also serves as writer, director, producer, and editor. While this isn't his debut as a director, it is probably his most well-known effort behind the camera. It's also a colossal failure, too. It's not so much of a biopic, or even a proper film as it is pretentious, self-indulgent wankery. I'm okay with artsy, experimental indie works, but Franco tries way too hard here. It's rambling, overlong, boring, and really doesn't add up to anything. I had read a fair amount of Crane's poems and letters before seeing this, and, while I didn't hate his work, I can't say I'm a fan. That's not to say that some of his stuff isn't enjoyable, I just think he's overrated, despite his story being worthy of cinematic treatment...but not like this. The film has pointless title cards that serve only to spell everything out, and it's divided up into several episodic vignettes that covers periods of Crane's life, but really just sort of exist instead of actually providing a narrative about the man or his work. It's obvious that Franco loves Crane, and this was a real passion project for him, but I have no idea what he was thinking when making this. It's sloppy, meandering, slow, jumbled, and serves as a good example of how not every film that's a low budget artsy indie is always better than the big budget mainstream studio affairs.
Chris Weber
Super Reviewer
I'm always amazed when films made about intellectuals have little to no intellectual content. The starkness of that contrast startles and befuddles me every time. It also stuns me how often this happens. The latest example is James Franco's "The Broken Tower," which focuses on avant-garde American poet Hart Crane, who killed himself in 1932 at the age of 32. Franco clearly has authentic interest in Crane, and he appears to be getting a serious education at a range of institutions, including Yale University, where as far as I know he is currently pursuing a PhD in Literature. But in this film project, only a shallow level of interest shows. Franco is drawn to Crane and his poetry, but here he doesn't have anything significant to say about Crane or his poetry. There are superficial depictions of Crane struggling to get money so he could devote himself to writing poetry and many long passages where Franco reads Crane's poetry. The recitation is not particularly engaging, by the way. And since all the poetry has already been published, I'm not sure what the benefit is of having so much of it read to us. We already can read the poetry, Mr. Franco. We're not watching your movie to find Crane's poetry, since we can already get that in a library. Film as audiobook -- not good. There are bold depictions of Crane's sex life here, including one particularly daring scene with Franco portraying Crane performing oral sex on a man. Let's just say that it's cinema verite. Franco goes down on it with real gusto and in close-up. Not many straight-male movie stars would do this. Franco appears to have forceful opposition to homophobia, which is great to see. But this is more a moral gesture than an artistic one. "The Broken Tower" may have moral force, but it has almost nothing artistic to say. The film is also rather flat-footed. Franco demonstrates really no directorial talent here. Almost every scene feels awkward and phony. Franco's acting is also skin-deep here. A noble effort, but "The Broken Tower" is ultimately a big disappointment.
William Dunmyer
Super Reviewer
½
The Truth is Indecent. Fail This is James Franco's failed attempt in directing, producing and acting. In this slow endless film, Franco tries to highlight the melancholic life of American poet Hart Crane. Franco tries his best to make an art film, but ends up creating a piece of garbage . His attempt to use black and white, handheld cameras, and a slow picture is futile. He ends up creating a horrible film that instead of making you admire Hart Crane, you end up despising him. Avoid this movie Hart Crane : "From pit to crucifix
Pedro Holanda
Super Reviewer
Broken Tower Quotes
There are no approved quotes yet for this movie.