Bronco Billy
(1980)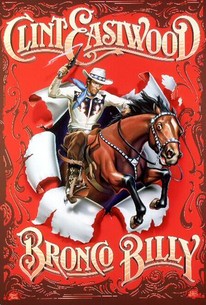 Movie Info
Bronco Billy stars Clint Eastwood (who also directed) as the impresario of a seedy wild west show. Going along for the ride is spoiled socialite Sondra Locke, who is "initiated" by being pressed into service as the wrong end of a knife-throwing act. The rest of the troupe, like Eastwood himself, are losers in life who yearn for the freedom and opportunity of the long-gone Old West. Despite its raucous ad campaign, Bronco Billy is at base a wistful character study, avoiding the usual trappings of car chases and redneck villains and offering quiet chuckles instead of belly laughs. Unfortunately it failed to click with the public, compelling Eastwood to temporarily return to his old crash-bang-pow formula in his next few films.
Critic Reviews for Bronco Billy
Audience Reviews for Bronco Billy
½
A tremendously enjoyable motion picture. One of Clint Eastwood`s best movies and best performances ever. A compelling, well-character drawn and heart-warming masterpiece. It`s wickedly funny, smart and wonderfully entertaining. Eastwood crafts one of his finest performances and possibly his most wonderful character. I loved it, it`s a beautiful blend of humor and drama. The film packs nothing but pure heart and surprises. Its grand entertainment at it`s finest.
½
a modern tale with a western feel, bronco billy tells an incredibly unique story with solid direction and a perfect blend of humor and drama. i REALLY want to know how billy got his rangler out of jail, but its obvious that eastwood left that one question unanswered to build on the effectiveness of billy's character. overall a solid film.
Clint Eastwood as an anachronistic cowboy in a modern day western that typically pines for the days when men were men etc. etc. Clint's likeable enough, Sondra Locke isn't.
Bronco Billy Quotes
There are no approved quotes yet for this movie.