The Brood
(1979)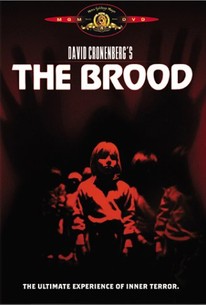 Movie Info
As the result of an unorthodox scientific experiment, a woman gives birth to a group of murderous, sexless mutant children. It is up to her ex-husband to discover the truth and stop this brood's rampage before he and his daughter become the next victims in this disturbing, graphic horror film.
News & Interviews for The Brood
Critic Reviews for The Brood
Audience Reviews for The Brood
½
From the master of body horror David Cronenberg comes this gruesome and thoroughly amusing film that is better to be seen without you knowing anything about (even if it isn't really surprising), and it has an unforgettable ending that could only become an instant classic.
Carlos Magalhães
Super Reviewer
½
This is one of the earliest horror films from mastermind David Cronenberg, and probably the most grounded of any of his films. Though it is still grotesque to watch, and definitely has the same ethereal wickedness of films such as "The Fly" and "Videodrome", this film at least tries to show reality in a much more conducive environment. The film follows the lives of separated parents, one of which is the father, Frank (Hindle), who is raising the couple's little girl (Hinds). The mother, Nola (Eggar), is much more interested in finding her center after living in a therapy center run by the somewhat devious Dr. Hal Raglan (Reed). Most of the film we watch her go into different trances and she finds herself crying like a strange child thanks to the beating and emotional abuse caused by her mother (Hogan). The psychological implications of the film rove right into horror as the people around Nola start to find themselves the subject of some strange physical wrath. What makes the film very eerie is completely reliant on the clinic where Nola is staying, which looks more like a darkened sauna. Oliver Reed gives a very genuine performance as the doctor who keeps Nola from the perils of the real world while also keeping her from really living her life to the fullest. He ultimately becomes a mere pawn in the strange supernatural game that Nola conducts. It really is a very warped film, in the sense that there doesn't seem to be a villain and Nola's psyche is obviously flawed, what with her acting like a delusional child. The entities that start mass murdering for her are very creepy, not just because of their deformed faces but because they look a bit like real children. Their origins and the true nature of their instability takes a while to get to, but that just gives more screen time to the killings, and when you have a film that is so weird and supernatural, that works to its advantage. This is definitely a Cronenberg film from start to finish, though some key aspects will surprise.
Spencer S.
Super Reviewer
Formulaic and predictable.
Randy Tippy
Super Reviewer