Brooklyn's Finest
(2010)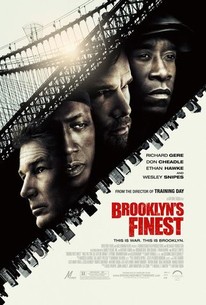 TOMATOMETER
AUDIENCE SCORE
Critic Consensus: It's appropriately gritty, and soaked in the kind of palpable tension Antoine Fuqua delivers so well, but Brooklyn's Finest suffers from the comparisons its cliched script provokes.
Movie Info
Burned out veteran Eddie Dugan is just one week away from his pension and a fishing cabin in Connecticut. Narcotics officer Sal Procida has discovered there's no line he won't cross to provide a better life for his long-suffering wife and seven children. And Clarence "Tango" Butler has been undercover so long his loyalties have started to shift from his fellow police officers to his prison buddy Caz, one of Brooklyn's most infamous drug dealers. When NYPD's Operation Clean Up targets the notoriously drug-ridden BK housing project, all three officers find themselves swept away by the violence and corruption of Brooklyn's gritty 65th Precinct and its most treacherous criminals.
News & Interviews for Brooklyn's Finest
Critic Reviews for Brooklyn's Finest
Audience Reviews for Brooklyn's Finest
½
This hard and realistic thriller follows the fate of three New York cops: one of them has only one week left until retirement, one has been working undercover for years and the third is trying to make a cut to get his growing family out of a moldy house. Their paths only cross marginally, even up until the end, but they all have something in common: they are real human beings with flaws and no shiny heroes. The movie may take the pessimistic look on the job and what it makes out of men a tad too far, but it is still flawlessly acted and gets more exciting by the minute. In the end, only one of them is gonna make the right decision.
½
I don't know why this was so universally bashed, it's really a great move and in many ways beats out its contemporaries like Crash. The main reason for that is fact that it doesn't have a single overbearing message that it's trying to convey for the entire movie, each character has their own message. I think Antoine Fuqua usually has a great style that he brings to his movies and this is a prime example of it. This often times has a visual style that mirrors each central character's tone, which I thought was pretty cool. Also, just from a visual standpoint Brookyln's Finest is extremely impressive. It reminds me a lot of The French Connection in that it has a realistic element that you can't quite put your finger on, but it's undeniably there. The story lines did a perfect job of intersecting; it wasn't obtrusive or cheesy, but gave you a feeling that this was just a massive city. The depiction of the police and criminals was really interesting; I liked that neither side was labeled as outright heroes or villains. (on a side note, I think it's hilarious that Richard Gere is rescuing hookers again). The core stories depend on individual decisions and morals rather that simple foreshadowing or having a plot that needs to go a certain direction. When the final climax finally hits, it's truly beautiful how everything works out. This is also strengthened by its performances; Richard Gere, Don Cheadle and Ethan Hawke all turn in extremely good performances. All of their characters are conveyed in a way that makes them feel like real people. The acting isn't overblown or drawn out for oscar season. Chances are, if you're willing to give this a chance, it'll probably be a really nice surprise.
Conner Rainwater
Super Reviewer
If this was finest, God forbid me from seeing its worst. Except for a single scene, the complete movie was boring to the core.
familiar stranger
Super Reviewer
Brooklyn's Finest Quotes
| | |
| --- | --- |
| Ronny Rosario: | Hey, Sal. Thanks for watching my back out there today. They're gonna pin a medal on you, bro. |
| Sal Procida: | If I had given it a second thought, I wouldn't have lifted a finger for you. I would have done what I came here to do, so don't go patting me on the back. I don't deserve it. |
| | |
| --- | --- |
| Sal Procida: | Change that skirt. People are gonna start to think we're Catholic only on Sundays. |
| | |
| --- | --- |
| Det. Patrick Leary: | My shorty is black. Don't we go shopping for cocoa butter together? |