Brother Bear
(2003)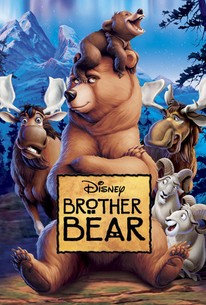 Movie Info
Driven by the emotional and joyous rhythms of five great new songs from Academy-Award (R) winner Phil Collins, "Brother Bear" is Disney's exciting new animated holiday adventure. Set against the majestic natural splendor of the Great American Northwest, the film tells the story of a boy named Kenai, whose life takes an unexpected turn when the Great Spirits transform him into a bear - the creature he hates most. Befriended by a bear cub named Koda, Kenai sets out to regain his human form while his brother (who doesn't realize Kenai is now a bear) pursues him on a mission of revenge and family honor. With breathtaking animation, powerful emotion and humor, this film introduces a memorable cast of characters and paints an unforgettable tale of courage, honor and self-discovery.
News & Interviews for Brother Bear
Critic Reviews for Brother Bear
Audience Reviews for Brother Bear
There's definitely a charm to this film, but compared to the trailblazers that came before it, this feels very underwhelming. My main complaint would be that it relies a lot on contrived ideas and has a morality that feels uninspiring, though it's dealing with big, provocative issues. The other thing that was really annoying was the reliance on Phil Collins for the music, which was an interesting gimmick in "Tarzan" but here it's unwelcome and tedious. The message relies on facing up to past misdeeds, letting go of grief's anger, and not blaming the wrong people for mistakes. I liked that it dealt with a culture that doesn't get much screen time, but most of the plot focuses more on a man-bear's journey to a mountaintop, and that's just not that exciting. It was rather funny at times too, though that's mostly because of the Canadian moose, played by Rick Moranis and Dave Thomas. The ending was amazing, and goes against a lot of traditional Disney narratives, which I thought was a very thoughtful choice. It just didn't feel very fresh, as it dealt with a lot of already trodden ground.
Spencer S.
Super Reviewer
½
Animation work is above average and there are a couple of standout scenes but ultimately it doesn't reach the heights of Disney's back catalogue. Full review later.
Thomas Bowler
Super Reviewer
Fun, but gets really in to spirits and crap. Great music, horrible story, good voice acting. I liked it, but didnt love it.
Jim Careter
Super Reviewer