Brother Orchid
(1940)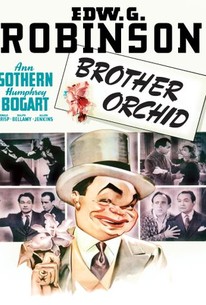 AUDIENCE SCORE
Critic Consensus: No consensus yet.
Movie Info
Edward G. Robinson plays orchid-loving gangster Little John Sarto, who aspires to "real class." During a power struggle with usurping mobster Jack Buck (Humphrey Bogart), Sarto is taken for a one-way ride, but he escapes his would-be assassins and hides out in a monastery overseen by Brother Superior (Donald Crisp). Sarto insists that he'd like to become a monk himself, but in fact he's using the monastery as a hideout, the better to mount his counterattack against Buck. Eventually Sarto's resolve is weakened by the kindness of the monks, and he decides to turn over a new leaf. He sees to it that Buck is brought to justice, and also fixes up his true-blue "moll," Flo Addams (Ann Sothern), with good-hearted Texas rancher Clarence Fletcher (Ralph Bellamy). (News flash! Bellamy gets the girl for once!) Sarto, now known as "Brother Orchid," returns to the monastery for good, declaring that he's finally found the real class. Though Edward G. Robinson didn't want to play another gangster, he agreed to star in Brother Orchid in exchange for being allowed to essay the lead in Warner Bros.' historical drama A Dispatch From Reuter's (1940).
Critic Reviews for Brother Orchid
All Critics (4) | Fresh (3) | Rotten (1) | DVD (1)
Just charming enough to keep it from becoming a dud... It's Robinson's delicate touch that keeps us watching.
...combines a gentle humor with a touch of sweetness that makes it a delight. (Warner Gangsters Collection, Vol. 3)
Audience Reviews for Brother Orchid
This is one of my favourite dramas of the 1940s. It has a good cast and a good story. I highly recommend this movie.
Brother Orchid is an uneven and odd movie from the Warner Bros. gangster stable. Edward G. Robinson plays the likable little tough guy who gets chiseled out of his racket by a one-dimensional performance by Humphrey Bogart. The first half of the movie plays like a gangster comedy that's not without its charms but the second half when a presumed dead Robinson hides out at a flower-growing monastery takes on this dramatic, Lost Horizonesque quality that's enjoyable enough, but just sort of left me bewildered. Robinson and Bogart play their trademarked (at the time for Bogart, at least) roles and Ann Southern did the dizzy blonde thing perfectly. Ralph Bellamy was actually a standout. Brother Orchid definitely isn't required viewing but fans of Edward G. and Bogart but it's not to be avoided either.
Michael Gildea
Super Reviewer
Brother Orchid Quotes
There are no approved quotes yet for this movie.