Brother Outsider: The Life of Bayard Rustin
(2002)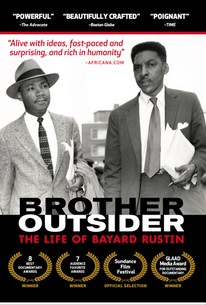 AUDIENCE SCORE
Critic Consensus: No consensus yet.
Movie Info
Documentary on Bayard Rustin, best-remembered as the organizer of the 1963 March on Washington.
Critic Reviews for Brother Outsider: The Life of Bayard Rustin
There are no critic reviews yet for Brother Outsider: The Life of Bayard Rustin. Keep checking Rotten Tomatoes for updates!
Audience Reviews for Brother Outsider: The Life of Bayard Rustin
Okay, so we have all seen those ads supposedly about the most interesting person. That is so this century. If we're talking last century, then it certainly has to be Bayard Rustin(1912-1987) whose life and times are told in this fascinating documentary that maybe does start a little slowly. While the story of the civil rights movement has been told many times before, Rustin's individual story starts a little differently as he did not first face racism and segregation in the Deep South like many others but in his hometown of West Chester, Pa. Eventually, he would affiliate himself with Communists but would depart when he found their commitment to the cause wanting. Later, he would organize the March on Washington for Jobs and Freedom in 1963. To the cause of civil rights, he brought the pacifism of his Quaker upbringing to the table.(Also included is some great footage of him debating Malcolm X and Stokely Carmichael.) Not only that but Rustin would also oppose the draft during World War II, even going to jail for his pacifist beliefs. And what? You thought they invented burning draft cards in the 60's? Oh by the way, Bayard Rustin was also gay. And as remarked here, he was out as much as anyone could be before Stonewall. I do agree that the arrest in Pasadena was stupid, considering how much it would be held against him in years to come. Plus, he also sang, which you can hear on the soundtrack, for a while professionally to make a living.
Brother Outsider: The Life of Bayard Rustin Quotes
There are no approved quotes yet for this movie.