Brotherhood (Broderskab)
(2010)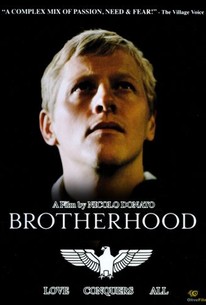 Brotherhood (Broderskab) Photos
Movie Info
Olive Films is proud to present the US theatrical release of BROTHERHOOD, a film by Nicolo Donato (his feature film debut). Winner of the Best Film prize at the 2009 Rome Film Festival, BROTHERHOOD, a gay neo-Nazi drama, will open at the Cinema Village in New York on August 6 and at Laemmle Sunset 5 in Los Angeles on August 20. Other cities will follow. When Lars (Thure Lindhardt) is cheated out of promotion to a sergeant, following rumors about his unbecoming behavior towards some of his men, he decides to leave the army. Back home, his overly proper suburban parents succeed in driving him nuts in record time, as they do everything in their power to sweep the embarrassing incident under the carpet. By chance, Lars runs into a small radical group of neo-Nazis led by the charismatic Michael 'Fatso' (Nicolas Bro). Initially, Lars distances himself from their ideology and methods, but fuelled by defiance against the system in general - and his parents in particular - Lars decides to join the group. Fatso immediately spots the potential in the intelligent and eloquent Lars, even though his right-hand man, Jimmy (David Dencik), does not agree. Lars rapidly advances through the ranks and is nominated as an "A" member, despite the fact that this promotion should really have gone to Jimmy's younger brother, Patrick (Morten Holst). Lars moves out of his parents' house and into board chairman Ebbe's remotely situated summer cottage, which Jimmy is in the process of renovating. Despite their initial dislike of each other, the attraction between the two men soon becomes too strong to ignore, and even though they feel torn between ideology and emotions, they begin a secret relationship. Lars finally tires of all the 'Sieg Heil' greetings, false ideology and nightly attacks, and when he discovers the group's views on gays are also about to reach boiling point, he tries to pull out. Jimmy now finds himself caught in a painful dilemma, for no matter what he does he will either end up betraying his younger brother, his ideology and his neo-Nazi 'brethren' - or his relationship with Lars. The price of betraying the group is high, but when Lars and Jimmy make their final decision, destiny deals them one last fateful hand... -- (C) Olive Films
Critic Reviews for Brotherhood (Broderskab)
Audience Reviews for Brotherhood (Broderskab)
One of the most beautiful films I've ever seen, I loved it to bits. Everyone acted so well in the film, the story was cross over of American History X and Brokeback Mountain with an anti climax. I was just so glad to see such an amazing film, blending two of my favourite genres together. Well Done Nicolo Donato!!!!
Sylvester Kuo
Super Reviewer
½
What makes of a real man? Brotherhood shares a secret of the discovery of a complicated shared intimacy in a hostile Neo-Nazi fellowship that effected betrayal, hatred, and vengeance. Surprising.
Jan Marc Macababayao
Super Reviewer
"Brotherhood," a new film from Denmark, is a brilliantly acted, heart-wrenching drama about the complexities of the human heart. It has a bit of a predictable and melodramatic dimension ("Brokeback Mountain" among neo-Nazis, one might say), but there's no denying its power and humanity. Would that all melodramas had this much quality. David Dencik as Jimmy, a young neo-Nazi struggling with his emerging homosexuality, is so good and so complex that he deserves Oscar consideration. Thure Lindhart as his love interest is also very good, if a bit one-dimensional. Notable also are exceptional supporting performances, especially by Morten Holst as Jimmy's drug-addicted younger brother. The film introduces us to a close-knit band of young neo-Nazis in present-day Denmark. Their leader is in regular contact with a well-educated man of about 60, who acts as a sort of father figure to them, visiting them frequently and schooling them on the finer aspects of fascist philosophy. The film takes neo-Nazis seriously, choosing not to present them as buffoons or monsters. It certainly does not side with Nazis, but it takes seriously the attractiveness of the movement particularly for young white males who lack a sense of family and belonging. The deep fraternal bonds that emerge among them make it all the more wrenching when they have to decide how to handle the news that two of their brothers have fallen in love. The central drama concerns their competing loyalties. What is more important to the movement, brotherhood or ideological purity? If they choose ideology, how far will they go in spurning their brothers? A shocking twist at the end adds an extra layer of complexity that was appreciated. I won't reveal it, but I'll say that writer/director Nicolo Donato ponders some intriguing questions about the vantage point of the traditional gay movement. Donato seems to be reminding us that everything is not always as it seems at first. Choose your demons carefully.
William Dunmyer
Super Reviewer
Brotherhood (Broderskab) Quotes
There are no approved quotes yet for this movie.