Brotherhood of Blood
(2007)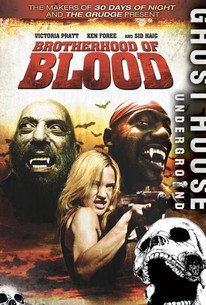 AUDIENCE SCORE
Critic Consensus: No consensus yet.
Brotherhood of Blood Photos
Movie Info
A beautiful vampire slayer held prisoner by a powerful, blood-drinking king prepares to do battle with a force that sends even the children of the night scurrying into the shadows in this tale of bloodlust and mayhem starring Sid Haig, Ken Foree, Jason Connery, and Victoria Pratt. Bound in the cellar of vampire king Pashek and surrounded by creatures who would drain her dry without hesitation, vampire slayer Carrie Reiger (Pratt) knows that the time of reckoning is at hand. Somewhere, far away, the dreaded vampire demon Vlad Kossel has been resurrected. Should Carrie fail to free herself in time to take on her hellish opponent one on one, it could spell the end of not just the vampire population, but the human race as well.
Critic Reviews for Brotherhood of Blood
There are no critic reviews yet for Brotherhood of Blood. Keep checking Rotten Tomatoes for updates!
Audience Reviews for Brotherhood of Blood
½
I always try to be lenient on B-Movies, particularly when they're horrors. It takes a lot of work to come up with a finished product, I know, so trying to push out literally anything that fills the ninety minute slot on such a low budget is an impressive feat, whether it's a decent bit of entertainment or not. Brotherhood of Blood is not fantastic, but it's all a matter of comparison. And thinking about what it had to work with, the film is actually kind of alright. Latching Sid Haig (above - House of 1000 Corpses, The Devil's Rejects, Halloween, Jackie Brown) and Ken Foree (Halloween, The Devil's Den, The Devil's Rejects, Leatherface, The Terminator, The Wanderers, Dawn of the Dead) as vampires was an especially good move, no doubt to appease cult horror fans like myself. From what I could gather online, the general feeling towards Brotherhood was that its ending was a let down, but I personally dig the ending. I thought it was great, perhaps not a great surprise as it was intended to be, but none the less, not as poorly executed as people seem to feel. Though Brotherhood falls into the proverbial pit that assails all B-Movies, in that the effects and visual quality are simply abysmal. The film acknowledges this, and just gets on with the story. And its actually a pretty bloody decent story. I love the theorems about Saint George the Dragonslayer, it was a fresh and exciting idea, even if it has been dumped into a tired horror formula. While the acting was less than upstanding, again it's all a matter of comparison, and when held up against B-Movies the likes Broken of or the very similar feeling vampire film Against the Dark, Brotherhood has actors that are a veritable powerhouse! Of course against films that are actually good, it's not so lucky. 52% -Gimly
½
Nonexistent production values scuttle a couple neat ideas inserted into ye olde vampire genre. Most of the time is spent in someone's dirty basement with the remaining scenes shot in his dirty apartment. I liked the concept of a team of mercenary vampire hunters who hork the loot found on their kills - cash, rings, jewelry - in order to remain solvent. Somebody has to pay for new crossbows and all that ammunition, right? But this angle, like everything else in Brotherhood of Blood, is underdeveloped. It even seems like entire scenes are missing which explained motivations and histories - maybe they ran out of time since they had to get the camera back to Circuit City while still covered by their return policy? Victoria Pratt shows she can ably shoulder the load of action heroine (even if there is very little action) while grizzly Sid Haig adds some bite to the role of a vampire leader, albeit with fangs from a Cracker Jack box. And like Pratt, who starred in Cleopatra 2525 and Mutant X, Will Snow re-emerges from an early 2000's fantasy syndication series The Lost World. Ken Foree of the original Dawn of the Dead is disappointingly on hand merely to moan while chained to a table. The story is told using a pointless and confusingly intercut dual timeline. It's a real shame that such a good, yes, I really mean a good twist ending is wasted on such a lousy movie. Did I say ending? Well there's another failure as we are expecting what would be the biggest confrontation, but it doesn't happen and we few who made it to the end are left hanging. Were they *really* expecting to make a sequel to this squalor?? Now them's some big balls, boys. Probably a good thing it never happened since a sequel is always a bigger spectacle and thus twice as expensive, so just where would they find the two hundred bucks?
Doctor Strangeblog
Super Reviewer
.From the Ghost House Underground Series, and my question is how did it ever make it to this collection of good movies. Up to this point all the Ghosthouse Underground movies I have seen have been good movies. This one let me see how should I put it, well the only way to say it is that IT SUCKS, No Pun intended. This is a vampire movie but its so B its not funny. A twist at the end that I seen coming about mid way in the movie and then its like the producer ran out of money and decided to just stop the film, A crap ending. Not even worth the 2 stars I'm giving it.
Bruce Bruce
Super Reviewer
Brotherhood of Blood Quotes
There are no approved quotes yet for this movie.